There's a song I heard the other day with the lyrics: "we are all connected, but not connecting," and it struck a chord with me. I thought about that line for a while and how in today's world we have more technology to make things easier yet, we appear to be busier than ever. This holds true for many of us, both in and out of the kitchen, especially on those days when we stress about dinner and the drive-thru or a microwaved meal seem like the only option. Kate Payne has had those days, and isn't shy to tell you many of them were on a tight budget, and she has set out to get people to connect with their kitchens (and each other) while eating deliciously attainable meals.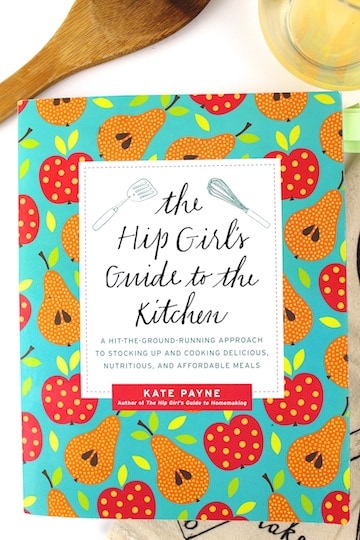 I met Kate a few years ago in the food community around town. She is one of those people you meet and instantly like –– she's relatable, super sweet and the real deal. Her first book the Hip Girl's Guide to Homemaking was on my favorites list in 2011 and now, I am adding her newest book the Hip Girl's Guide to the Kitchen ~ A Hit-The-Ground-Running Approach to Stocking Up and Cooking Delicious, Nutritious, and Affordable Meals to my 2014 list.
Part recipe book, part technique book, part DIY and all your new best friend  –– no matter what your skill level, this book is a kitchen must. Kate walks you through the book with basics like how to stock your pantry, save on food waste and budgeting, to gaining mad skills, party planning, and feeding others.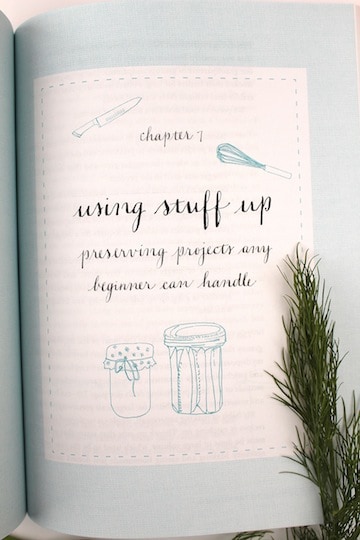 One of my favorite chapters ~ preserving projects any beginner or expert can handle ~ in both small and large batch.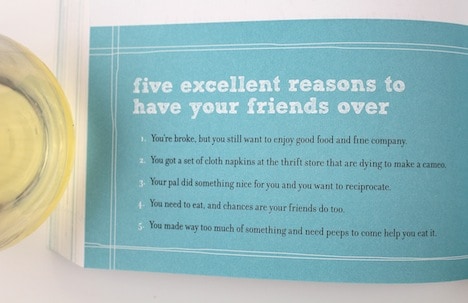 Sometimes we just need that extra push to be social, have people over and connect with food ~ Kate gives you great ideas throughout the book.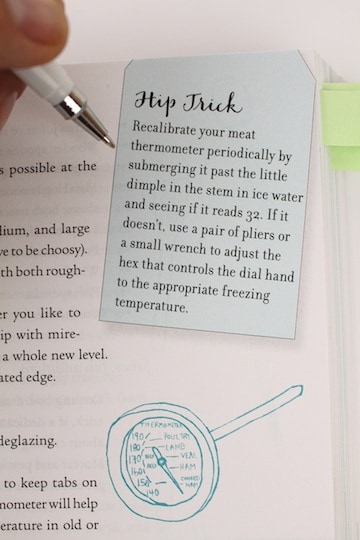 HGGK offers several "Hip Tricks" ~ from traveling with a slow cooker to fun folding table ideas to using a straw to remove excess air ~ and more.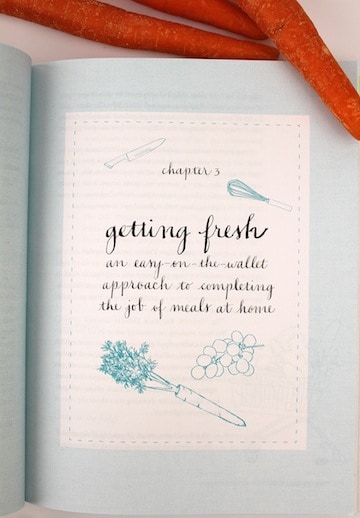 This book gets to the nitty gritty of how to really save in the kitchen and best of all Kate covers "How to Properly Load a Dishwasher" ~ which could be a relationship saving guide for some of us.
When it comes to things like canning, pickling, and practicality she's the girl for the job. The Hip Girl's Guide to the Kitchen is loaded with wonderful meal planning tips for 1 – 2 people or up to a full house –– complete with bitters, shrubs and simple syrups for seasonal cocktail ideas and numerous mason jar uses for any type of home.
I had the privilege to see Kate earlier this week as she makes her way across the country on her book tour and her "let's all go kick-ass in the kitchen" attitude is infectious. "Don't feel judged in the kitchen and whatever you do is good enough," she said cheerfully. She took the onlookers on a tour of her book and stopped to tell sweet family stories along the way. Her face lit up as she told the story of her Great-Grandmother Rose's Hot Bacon Cabbage Slaw and how she now adores this dish with her own family after touring her noes up at it for years. She had me at "hot bacon" and I knew I had to make and share this dish with you (recipe below).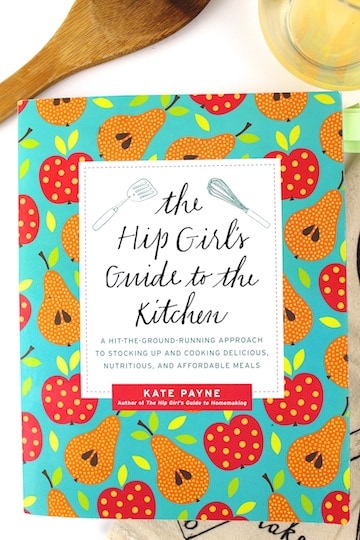 1

Small head

green cabbage

finely shredded

1/4

Medium

sweet yellow onion

thinly sliced into long strips

8

Strips

bacon

2

Tablespoons

apple cider vinegar

1/2

Teaspoon

Salt

1/4

Teaspoon

sugar

3

Grinds

black pepper
1

Small head

green cabbage

finely shredded

1/4

Medium

sweet yellow onion

thinly sliced into long strips

8

Strips

bacon

2

Tablespoons

apple cider vinegar

1/2

Teaspoon

Salt

1/4

Teaspoon

sugar

3

Grinds

black pepper
Finely shred one small (about 13-14 ounces) head green cabbage or use one 12-ounce bag of angel hair shredded cabbage (like my dad does). Place in a large bowl and dry cabbage if necessary.

Thinly slice the sweet yellow onion in long strips and mix with the cabbage. Salt and pepper the cabbage and onion and let them come to room temperature before proceeding.

Cook 8 strips of bacon in a large cast-iron skillet or stainless steel frying pan. Reserve 6 of the strips for the slaw and snack on the other two (like my dad and I do). Chop up the bacon for the slaw and add it to the cabbage and onion bowl.

Make the dressing by pouring off some of the bacon renderings, leaving about 1/4 cups worth in the skillet. Add 1/4 cup water and put the skillet over medium-low heat to bring it to a boil. Add the following directly into the pan: 2 Tablespoon apple cider vinegar 1/2 teaspoon salt 1/4 teaspoon sugar 3 grinds pepper

Bring to a boil and carefully taste dressing adjusting with more water, sugar or salt to your flavor preference.

Pour dressing over the bowl of cabbage and onion and mix quickly to incorporate. Dump contents of the bowl directly into the skillet to soak up the remaining dressing and warm the cabbage with the residual heat, but don't cook it.

Serve immediately and don't plan to have any leftovers (not entirely because it's so delicious, but because it doesn't transition gracefully from hot to cold).
As seen in the Hip Girl's Guide to the Kitchen by Kate Payne