Alright. We all have been there. We are trying to cook eggs for an early morning breakfast before leaving for work or college, and ruining them. That sometimes ruins your day because of the bad start. Egg boilers have been around for a while now, and you can buy them online to make sure you get the best-cooked eggs every single time. But with the number of options to choose from, how do you make a decision? Is there even a 'best egg boiler' for you? Let's try and find out.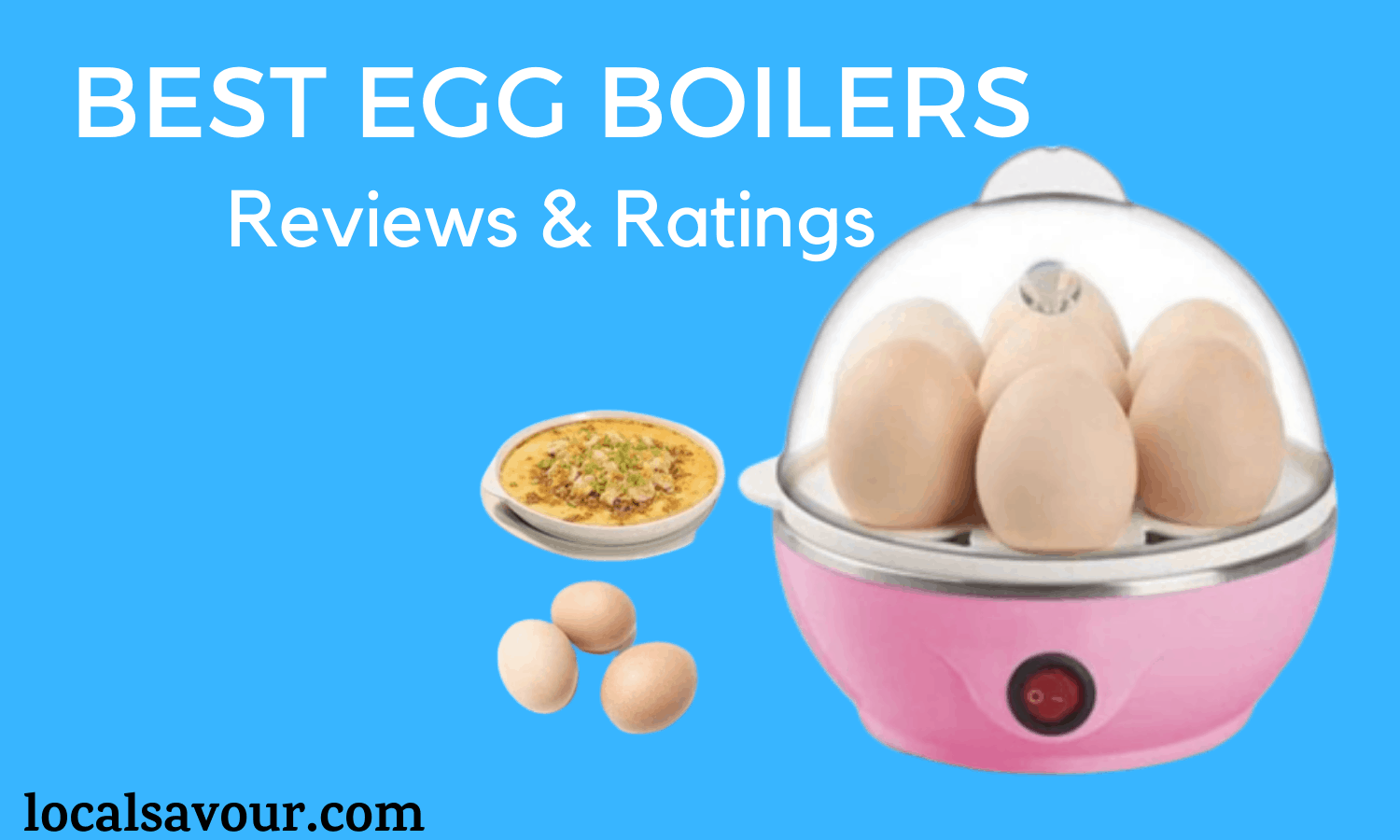 Before you go out on any online shopping site and buy the most recommended product or one with the best ratings/reviews, here's a thing. Not all the egg cookers are made equal; the needs of everyone can be dramatically different too. So, we have formulated a list of things you should look out for before you make the decision of choosing what the best egg boiler is for you and go from there.
Things To Look For in the Best Egg Cooker:
Capacity
Every egg boiler on the market has a capacity of eggs it can cook at a time. Depending on your family size or how many eggs you want to cook at once, you can choose what suits your budget and fits the needs well too. Besides, larger the capacity, the more power the boiler requires for operation. Hence the smart decision will be to get a boiler that fits the needs and has just a little headroom for occasional extra needs.
Operation
Some of the egg boilers on the market operate on electricity and do not need an oven or a gas stove to boil the eggs. While others can be put inside a cooker, steamer, on a gas stove or inside a microwave oven. The type you can choose depends on your use case and if you need that extra flexibility of not having to engage another appliance while cooking the eggs.
Construction Material
When you are in a hurry in the morning trying to get everything done just in time to leave, you would not like an egg boiler that needs extra care for handling it. So, you can see a glass boiler as not a worthy alternative in this case. However, the glass boilers do have their advantages and can prove better in some cases. Especially when compared to plastic egg boilers because of the threat of leaching of chemicals by the plastic at high temperatures.
Price
The price of the egg boiler for the features or the convenience it offers is another thing to look out for when deciding what's the best egg boiler for you among the different alternatives. You should consider if you seriously need that one extra feature that would increase the cost of the egg boiler and if it's worth it or not.
The time required for cooking the eggs
As you can understand by now, this is related to your particular use case, and the requirement differs from individual to individual. The egg boiler that boils the eggs fastest may not always be the best boiler for you if you do not have such tight time constraints. Instead, you can better invest the same money in another feature that you can find useful.
Ease of use
If you are looking for an egg boiler in the first place, then you are looking to enhance the convenience of boiling the eggs. You might as well want to get rid of the hassles while cooking the eggs, too. Hence, if a particular egg boiler has some attractive features but does not make your work easier in practice, you should look for something else.
List of Top 10 Best Egg Cookers:
1. Maxi-Matic EGC-007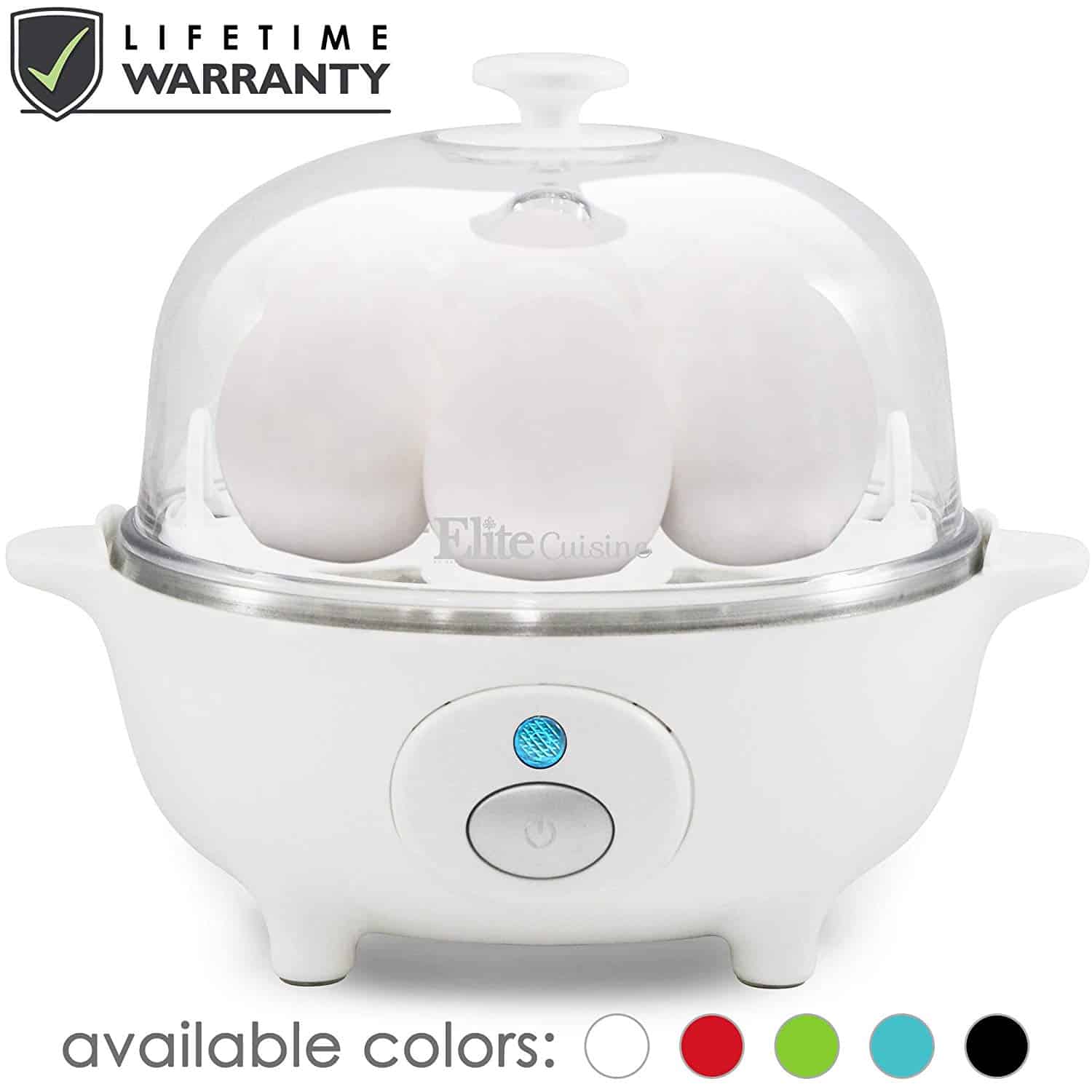 Maxi-Matic EGC-007 Easy Electric Egg is easily one of the safest and most feature-rich egg boiler available to purchase right now.
Key Features
Available in many colors
Safety alarm when the eggs finish cooking
Hard, Normal and Soft cooking the eggs as well as poaching and making scrambled eggs is possible
Easy and safe to use
Product Review and Description
The Maxi-Matic EGC-007 is one of the most advanced egg boilers out there. With the hard, soft as well as medium boiling eggs abilities, this egg boiler can also poach eggs and make scrambled eggs. Is there anything this boiler cannot do? The boiler is available in six different appearances. One of them is with a steel base, and the other five are with a plastic base. The plastic bases can have a fancy-looking black, lime green, red, teal, or white color. The plastic material at the bottom does not melt during operation and is safe to touch even when you are boiling the eggs.
The egg boiler has a stainless steel cover, and a cool-touch handle for easy removal even when the eggs are hot. The retail package of the Maxi-Matic EGC-007 contains a base, a measuring cups with markings, egg tray, poaching tray, and an omelet tray. You can boil up to 7 eggs at a time using this boiler, and while ordering, you have the option to choose the boiler with an alarm or without an alert. The without alarm option is currently available with a steel base only. The alarm goes off when the cooking finishes, as well as the boiler, stops providing heat to the eggs.
Very safe and secure to use
Feature-rich
Many color options available to choose from
The buzzer can be annoying as it goes off after the boiler finishes cooking, but does not stop automatically
2. Homeleader Egg Cooker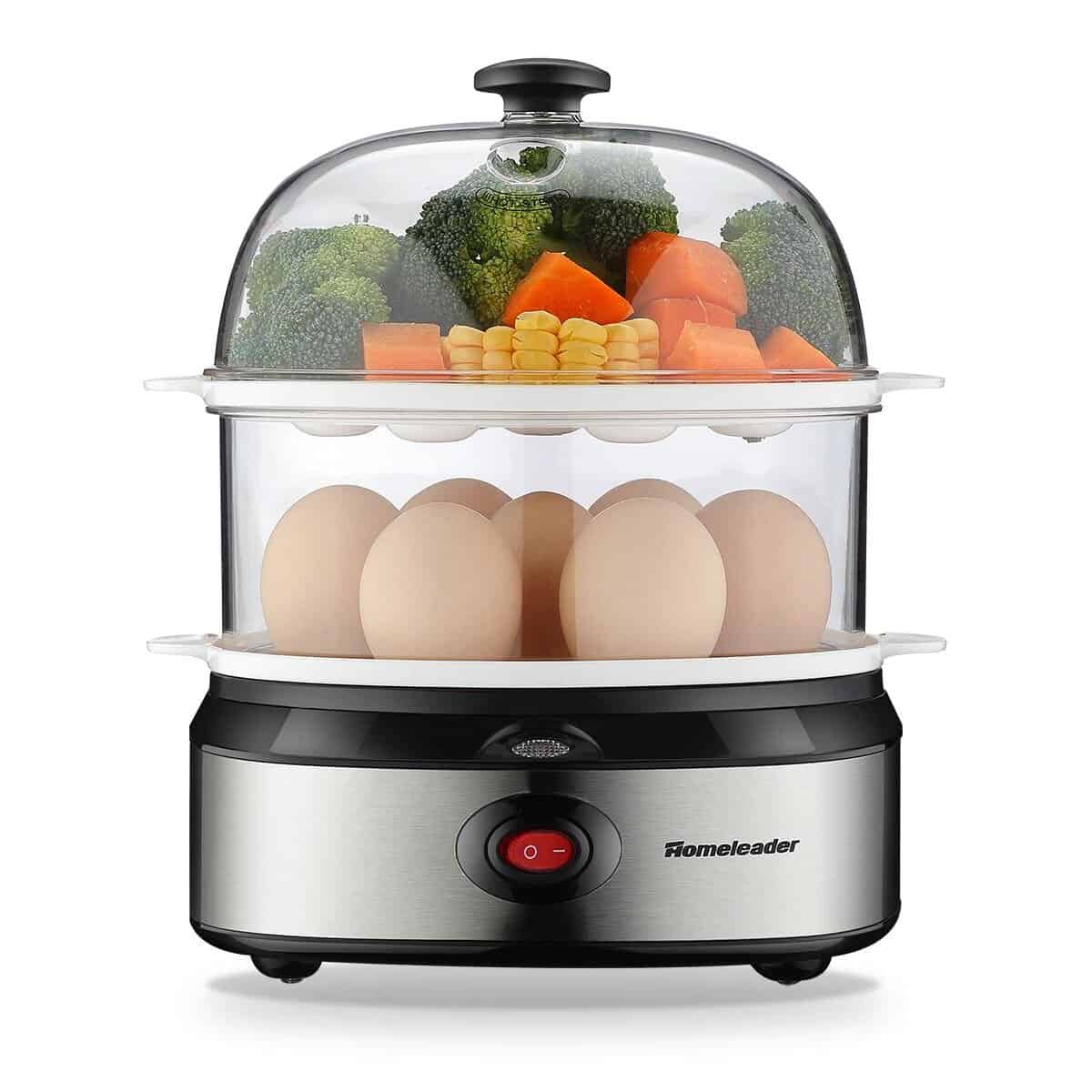 If you want to make more eggs at once, then Homeleader Egg Cooker is the perfect choice for you with the ability to cook 14 eggs at once!
Key Features
Can cook up to 14 eggs at once
It can be used to steam vegetables and other things too
Can cook omelet, vegetables, milk
Dishwasher safe components
Automatic power off
Product Review and Description
The 360W Egg Cooker from Homeware can cook eggs, vegetables, milk as well as can be used as a steamer for other things. It operates independently on electricity and does not need a gas stove or microwave oven for its operation. With the capacity to hard, soft or normal boil 14 eggs at once, this is one of the largest egg boilers available on the market. It can shut down automatically once it finishes cooking, and you can make omelets in this boiler as well.
The egg boiler has a double-decker design with transparent material so that you can see the progress of the cooking you are doing. You can steam vegetables, boil milk, cook eggs, and more using this simple device. It has a BPA-free bowl included for the vegetable steaming purpose along with the water measuring cup and a user manual. The plastic material used in making this egg boiler is food grade PP plastic, and the base where electronics are located is covered by stainless steel.
This egg boiler can cook 14 eggs at a time
Can be used as a steamer for vegetables, milk and other things
Automatic turn off
Dishwasher safe components, easy to clean
Instructions to use can be a bit challenging to understand
The two decks can cook the eggs unevenly
3. VonShef 7 – Egg Electric Cooker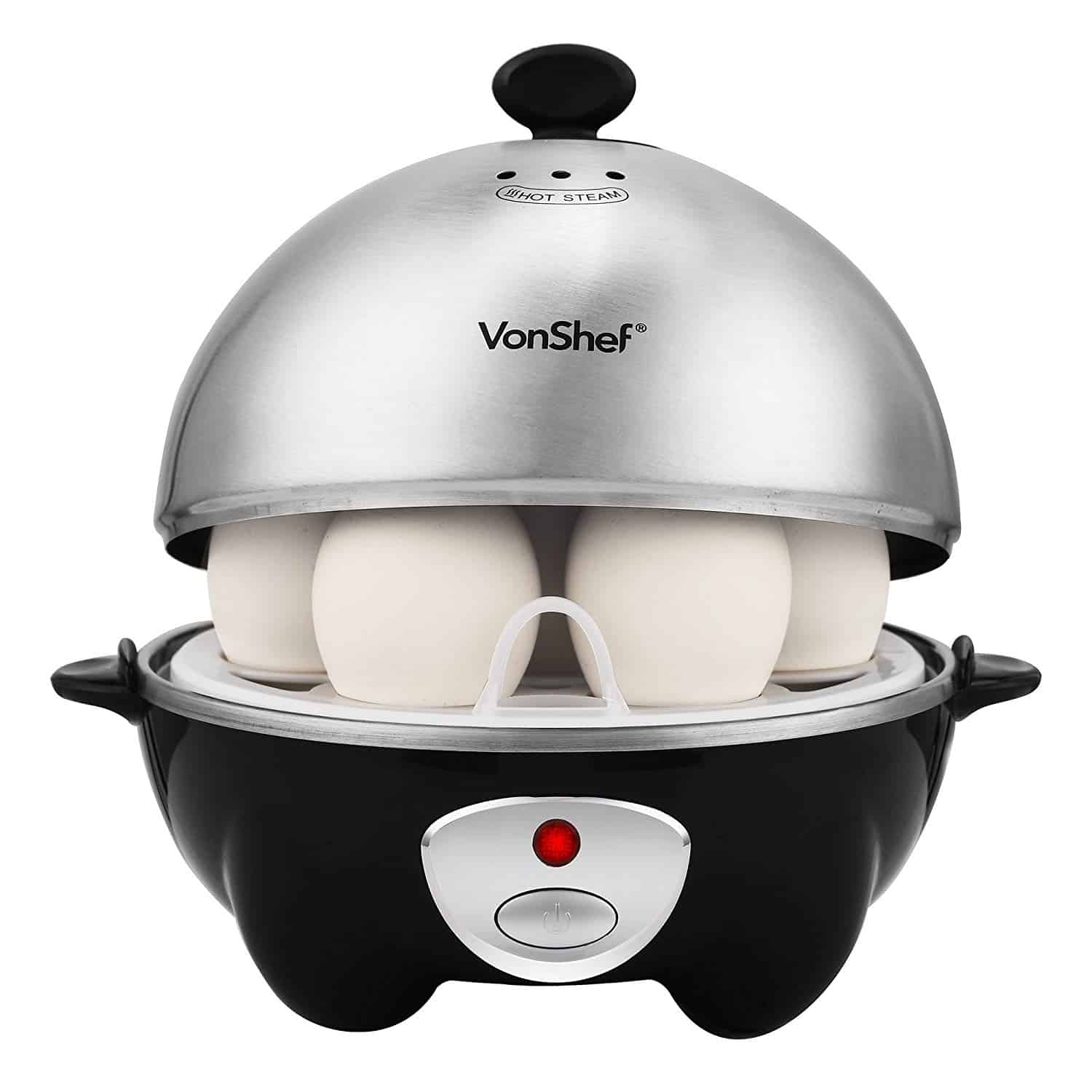 A safe, easy to clean egg boiler that you can use every day for cooking eggs as well as for poaching. The VonShef 7 Egg Electric Cooker is an excellent choice.
Key Features
Stainless steel cover for easy cleaning which does not get dirty like transparent covers
No irritating sound when cooking gets finished only turns itself off
Quick-cooking as the dome is not too large
Affordable pricing
Product Review and Description
The 7-egg electric cooker from Vonshef is turning heads because of its fast cooking times for eggs as compared to its competitors. The users seem to like how the stainless steel cover is easier to clean than acrylic or plastic covers. It works independently on 110-230V power, without any need for gas burner or microwave oven. It turns itself off when it detects that the water has evaporated or when a high temperature is reached.
The retail packaging comes with an egg piercing tool for an easy and mess-free piercing of eggs. The packaging also includes accessories for poaching the egg, which is quite useful. You can control the hard and soft boiling of the eggs by changing the amount of water you put while preparing for boiling. The measurements are easy to do with the included water measure.
You can cook eggs really fast
Simple design with stainless steel cover
Easy to clean and does not create a lot of mess
Includes accessories for poaching and water measurements
You cannot shut down till the water evaporates entirely or the temperature is too high
The included instructions are not useful, users have reported that you will have to do a lot of trial and error for the best results
4. Egg Cooker Hard and Soft 6-pack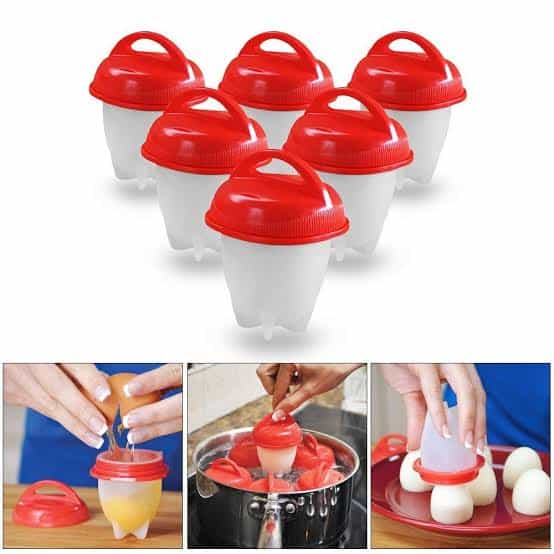 If you are looking for soft and hard egg boiler containers that you can put in any of the cooking pans or cookers for quick cooking without the eggshell, you can go for these. The Egg Cooker Hard and Soft 6 pack is a great option for all kitchens.
Key Features
Package of six containers to cook eggs
Straightforward usage
Can be used in any pot of boiling water
Dishwasher safe plastic containers
Product Review and Description
The six-pack containers for cooking the eggs are pretty useful when you need to hard or soft boil the eggs without having to remove the shells later. The containers are made from food-grade plastic that can withstand the high temperatures it has to face without leaching any harmful chemicals.
The egg boiler is effortless to operate. Just break an egg and put the egg white as well as the yolk in one of the six containers. Put the lid of the container on, and place these containers in boiling water for around 18 minutes. After the cooking is complete, you can take the boiled eggs out.
Affordable and effortless use
Simple design that can cook six eggs at a time
Don't have to peel the eggs after boiling them
Easy to carry with you anywhere, like camping
Rely on other electronic heaters or gas stoves and a pan of boiling water for cooking the eggs
Can't poach the eggs nor make omelets
Does not include instructions
5. Dash DEC012BK Deluxe Rapid Egg Cooker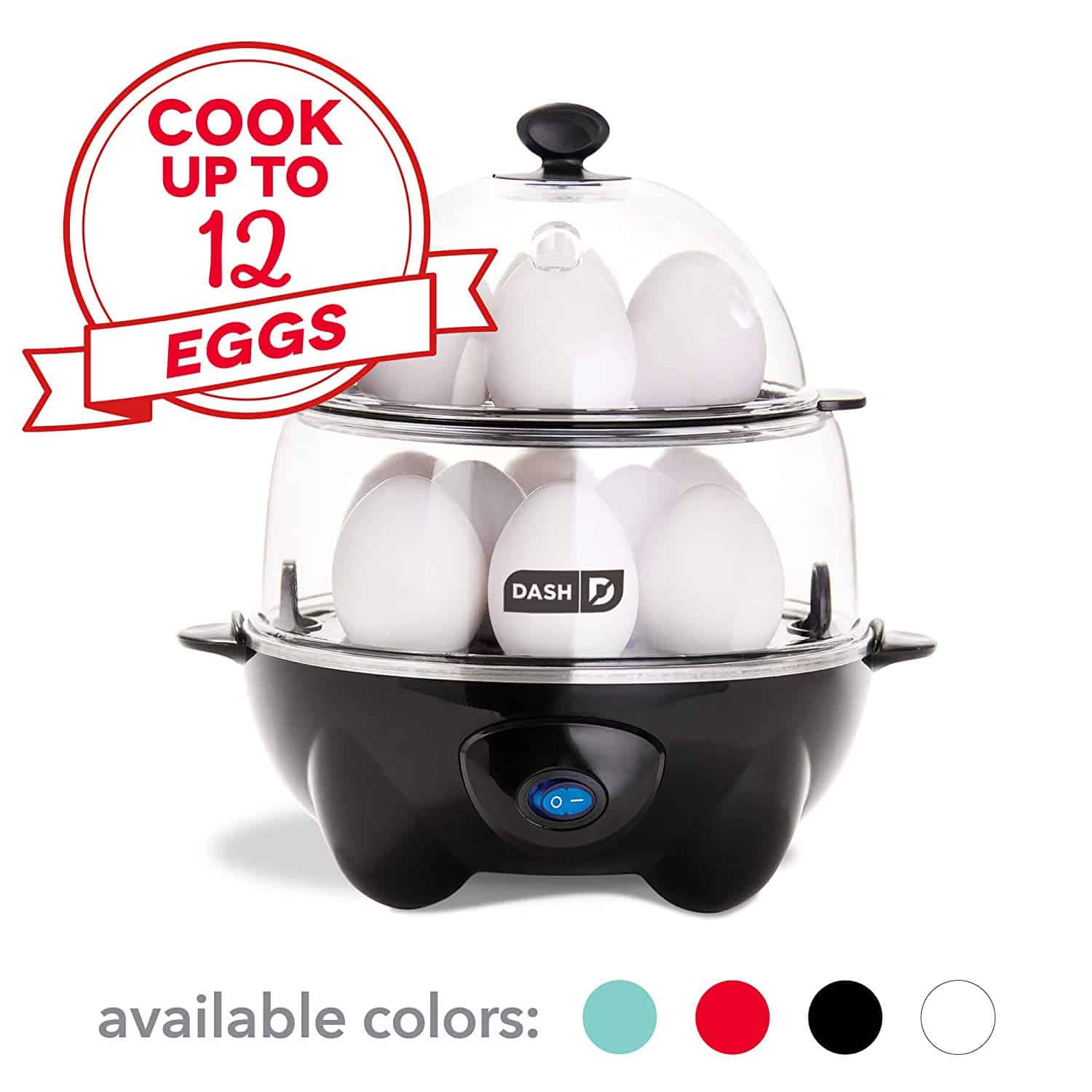 This beautiful egg cooker that can cook 12 eggs at once can be a great addition to your modern kitchen. The Dash DEC0123BK Deluxe Rapid Egg Cooker is a great option.
Key Features
Up to 12-egg capacity at a time
Beautiful design, available in four different colors
Powerful boiler with 500W rating
Dual-layer design that allows to steam vegetables also
Product Review and Description
The Dash DEC012BK Deluxe Rapid Egg Cooker looks a prosing deal for users with a modern kitchen. It ticks all the right boxes as well as suits a medium or a large family because of its ability to cook a dozen eggs at once. It just looks so beautiful! The transparent top cover allows you to see the food you are cooking without removing the cover. The 500 W power consumption means that the food will be ready in a short time for sure. It only gets better and better as we learn about what things it can do!
It can be used to hard as well as soft boil eggs. You can also use it to poach the eggs or make an omelet. You can steam vegetables inside it too! The double-layer design is still compact enough to allow for quick heating and not wasting much energy. The cooker has an auto shut down feature, and it also comes with the right accessories for measuring water, poaching eggs, preparing an omelet and for steaming the vegetables.
Large capacity with 12 eggs at once
This cooker can cook veggies as well
Powerful and fast
Poaching, Boiling, Steaming, Making omelets everything is possible
Poaching experience of many users is not that good
The included instructions and real cooking experiences have seemed to differ
6. Comcl Rapid Egg Cooker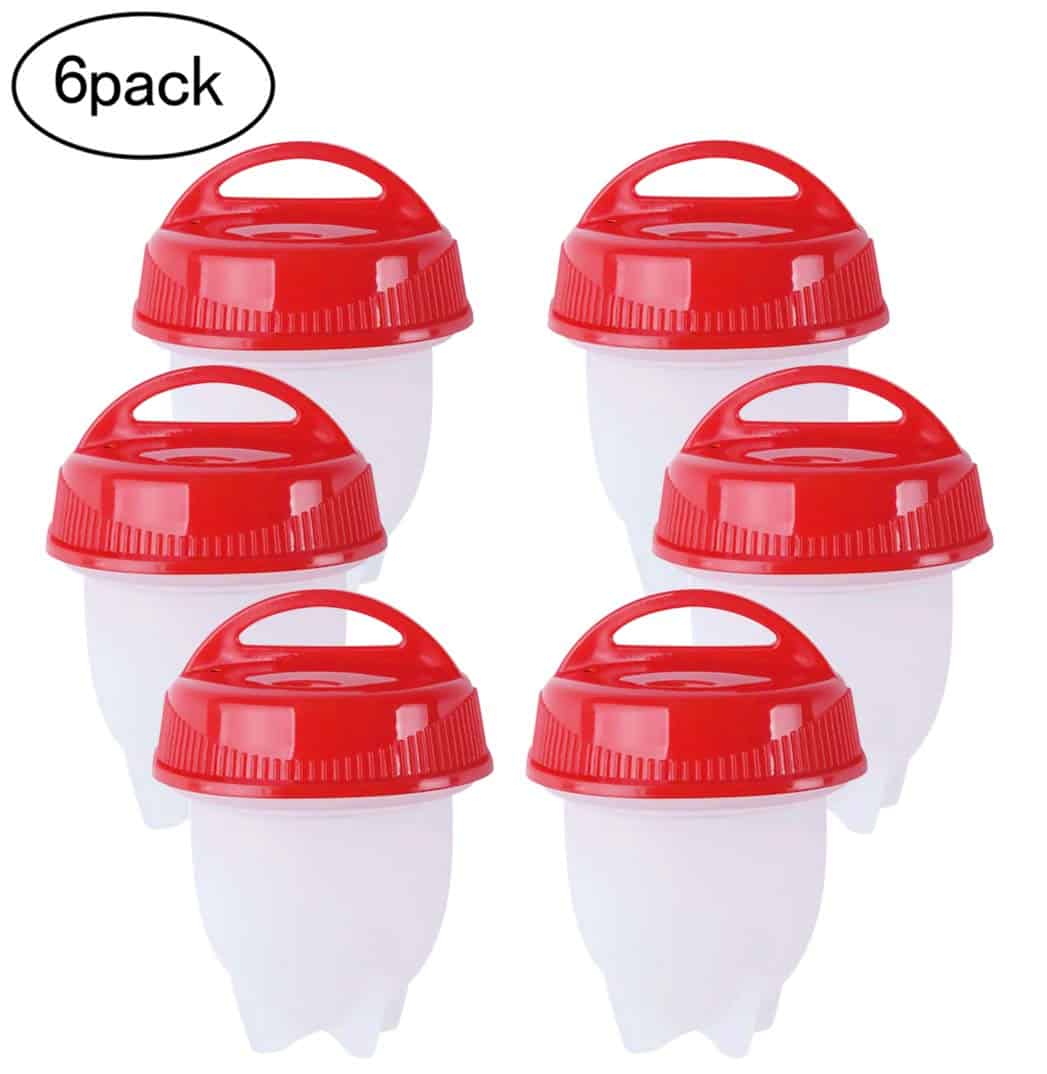 If you want a container for cooking an egg that can hold jumbo eggs without much trouble, go for the Comcl Rapid egg cooker!
Key Features
BPA Free plastics used for construction
Durable and can withstand high temperature
Compatible with the washing in most regular dishwashers
Perfect dimensions for all normal to large-sized eggs
Product Review and Description
This six-pack set of egg containers that you can use for boiling eggs is made from high-quality BPA-free high-temperature resistant plastics. The containers have very smart sizes so that they can be used to cook some large eggs too. Although everyone does not love the cleaning process after using these egg boilers, you can use them in any kitchen vessels with boiling water to cook the eggs. These do not provide the convenience of making omelets but are very cost-effective if you are only looking for a solution to boil the eggs.
You can poach eggs in these for sure. One significant advantage these types of boilers have over traditional boiling water in a pan based boiling method is that you do not have to remove the eggshells after the boiling process. You break the shells first and empty the egg content into the containers, putting them in boiling water for some time to get them cooked!
Can fit large-sized eggs as well
Durable and heat resistant material used for construction
Dishwasher friendly
Easy to use and compatible with most cooking vessels you can heat this in
Creates more mess than automatic egg boilers
Washing and cleaning the containers is a lot of trouble
Time-consuming to boil the eggs
7. MICOOK Microwave Egg Cooker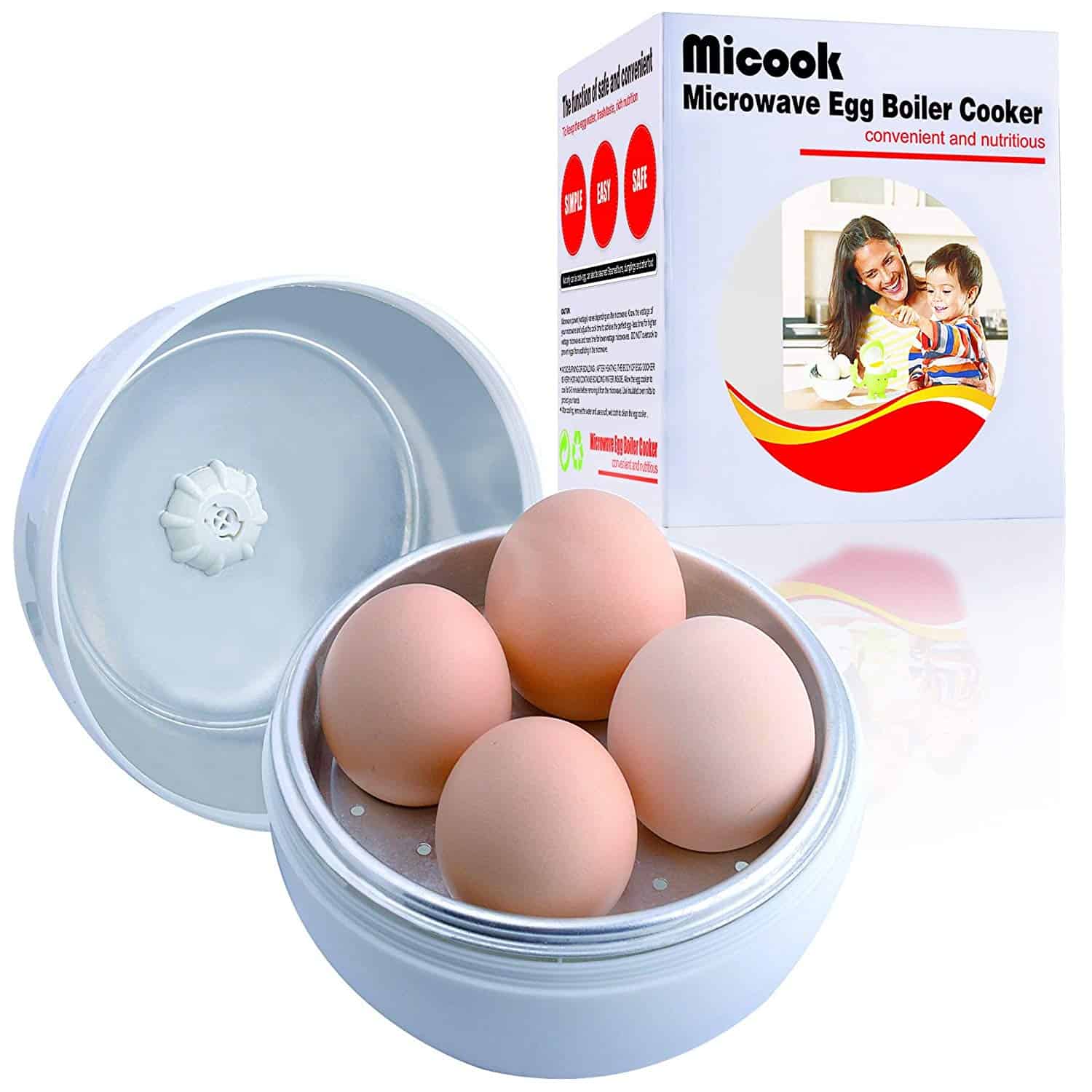 The first microwave egg boiler on this list and undoubtedly one of the best of its kind! The MICOOK Microwave egg cooker is simple to use and highly efficient.
Key Features
Microwave egg boiler
Dishwasher safe
Durable material
BPA and melamine free
Bestseller
Product Review and Description
The microwave egg cooker from MICOOK is the first egg boiler on this list that you can use in the microwave. It is one of the best of its kind too! The container is made from melamine and BPA-free and microwave-safe material which is easy to clean and handle. It is dishwasher free for the added comfort! Many customers preferred this bestseller for its ability to cook eggs entirely in under five minutes! Crazy, right? Microwaves are best known for their quick heating capacities, and this egg boiler makes full use of that technology.
There are two colors to choose from if you want to buy this egg boiler. The chicken-white variant is different from the pure white option; however, their names may sound close. The design is one of its kind, with air holes at the top to let high-pressure hot air escape and water column at the bottom. It can boil up to four eggs at a time, and the time required to cook the eggs sufficiently will get reduced if the number of eggs put inside the boiler is reduced.
Easy to adjust and use in a microwave
Just five minutes in the microwave for boiling eggs
No piercing required
Hardly any instructions required
Available in two beautiful colors
Eggs may explode if you put less water at the bottom
Should be handled carefully
They do not include any instruction set in the retail packaging
8. HoLife Stainless Steel Egg Boiler Steamer
The HoLife stainless steel egg boiler can cook up to seven eggs at a time, has an optimal look for a modern kitchen, and has an auto-shutoff mechanism.
Key Features
Auto shut-off
An optimal design
Made from FDA approved PP material and 304 Stainless-Steel
Includes a buzzer to indicate cooking finished
Provides poaching egg bowls and measuring cups in the package
A precise automatic temperature control system
Product Review and Description
The HoLife Stainless-Steel egg boiler has the capacity of cooking up to seven eggs at once, even with it having the smallest of footprints. It fits perfectly on any modern kitchen counters and looks attractive too. The buzzer in this boiler goes off when the cooking is complete and has to be turned off by someone. This is an advantage if you don't want to leave the cooked eggs in the container and to forget it, but a disadvantage if you don't like the annoying buzzers.
The stainless steel cover and body looks fantastic and is easy to clean. Moreover, except for the electronic base, everything can be washed in the regular dishwashers. Cooking eggs in this boiler is simple, and the retail package includes everything you might need for it. The piercing tool, poaching tray, omelet tray, measuring cup, you name it!
The automatic temperature control system ensures that each egg is cooked perfectly
Advanced high temperature and low water sensors shut down the boiler
Lifetime technical support
The alert gets your attention after the completion of cooking, also shuts down
The buzzer has to be turned off by someone even though the power to heating turns off automatically
Washing the parts can be a mess
Requires preventions to avoid any further loss due to high-temperature steam
9. SIMPLETASTE Egg Cooker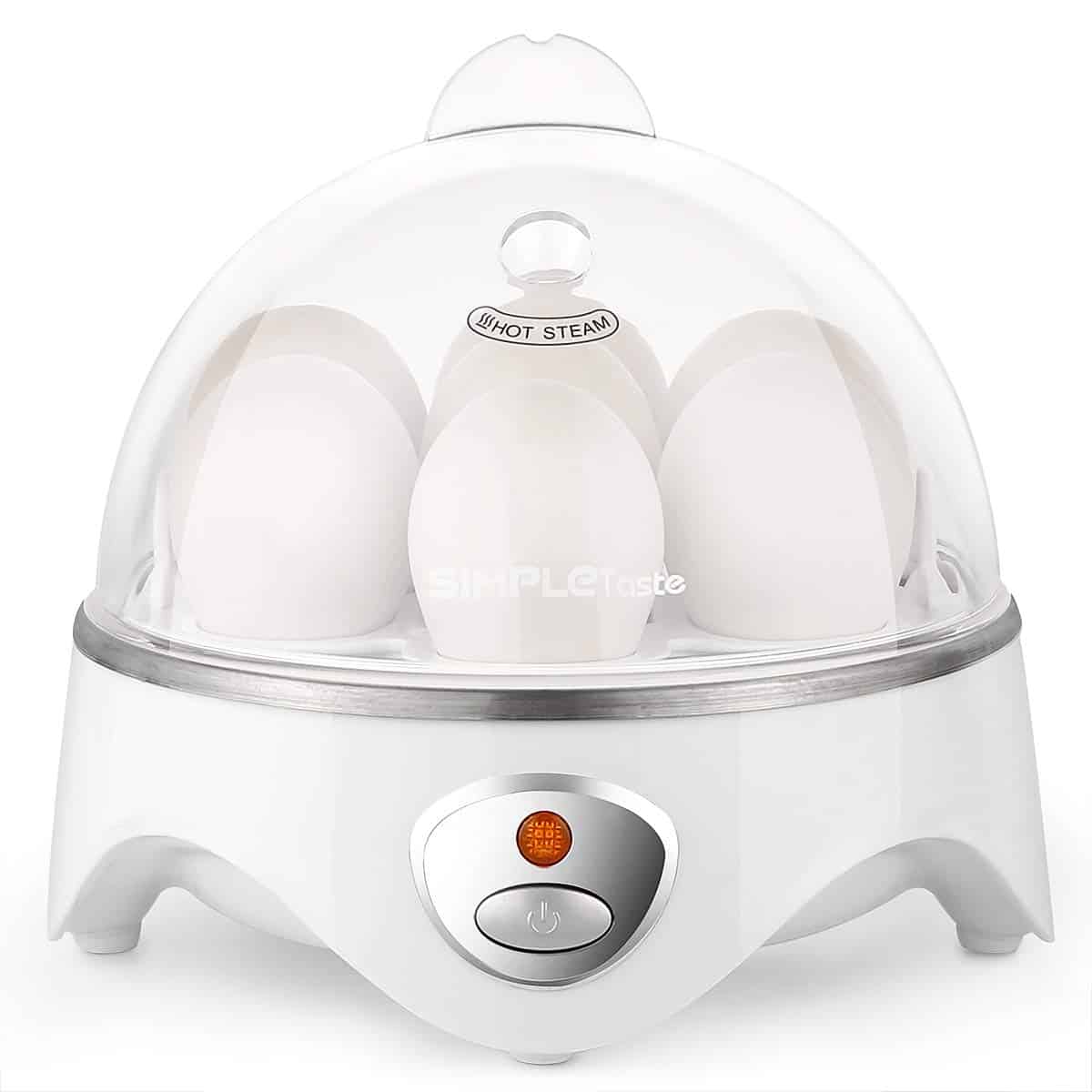 The SIMPLETASTE Egg Cooker is available in 7-egg and 10-egg capacities and looks very pleasant. It is lightweight, does not have an annoying alert that doesn't go off automatically, and is simple to use.
Key Features
Accessories included for poaching the eggs, piercing the eggs, measuring water
A must-have for a modern kitchen
BPA-free plastic body
Less noise generation when in operation
Energy efficient
7-egg and 10-egg capacities available
Product Review and Description
This egg cooker from SIMPLETASTE is another compact sized and efficient egg boiler that is available in two sizes. The smaller one can hold up to seven eggs for boiling at once, and the larger one can hold up to ten eggs. The cooking process is pretty straightforward, and all the necessary tools, as well as information, is provided in the retail box itself.  You can soft and hard boil the eggs, poach them or make omelets using this boiler.
The on/off button looks and feels nice, and the measuring cup provided works just fine. However, it has an automatic off feature to avoid overcooking the eggs. Being energy efficient and easy to carry anywhere, this egg boiler can be one of the best gift ideas.
Durable and harmless BPA-free plastic body
Easy to clean with dishwasher-friendly parts
Flexible capacity
Perfect measuring cups in the retail packaging
Low noise levels and high efficiency
Some users have noticed water burns due to high temperatures, so proper care must be taken
Can't hold large eggs
10. Chefman Electric Egg Cooker/Boiler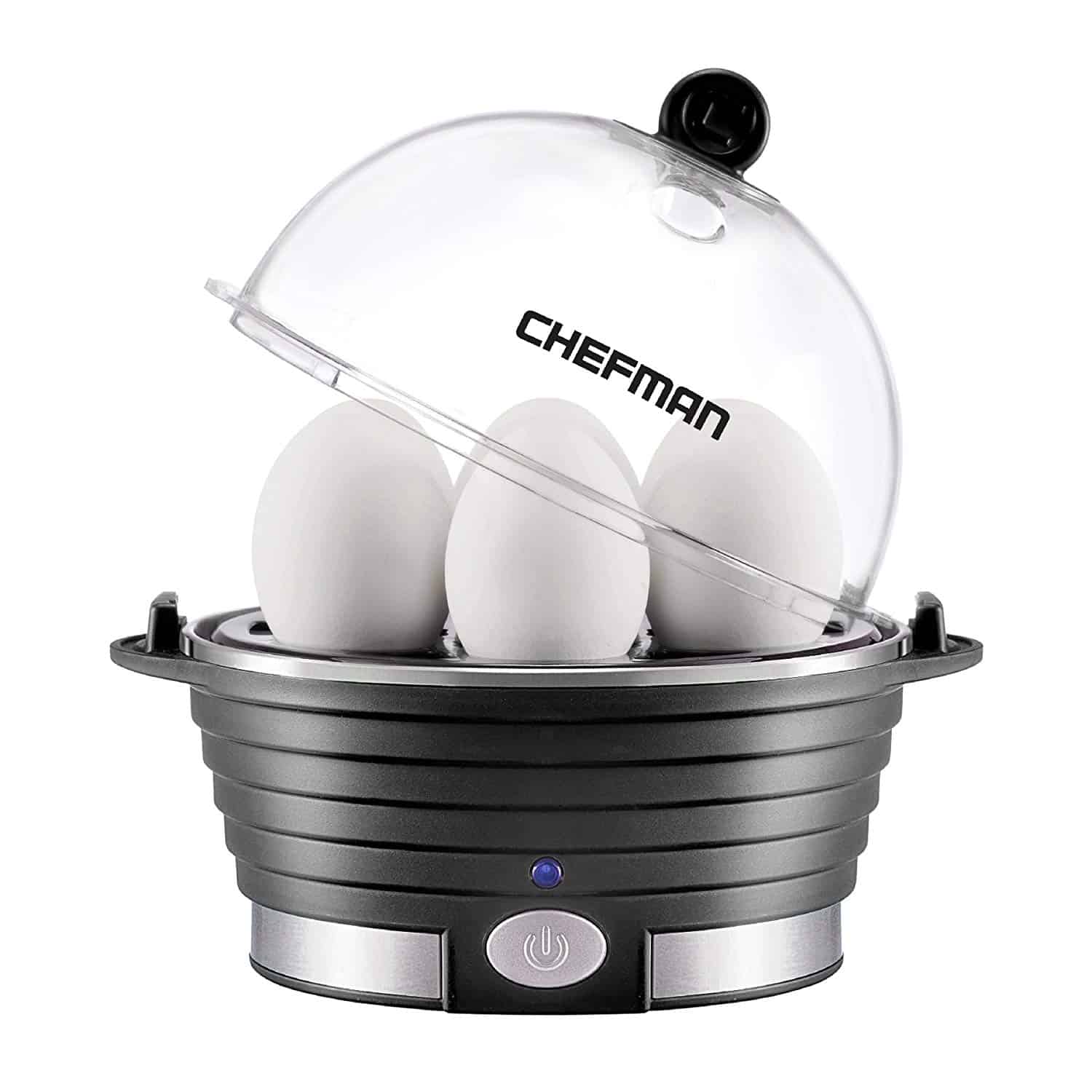 The Chefman Electric Egg Cooker/Boiler does its job well. It can be an attractive proposition for someone looking for an egg boiler that reminds them to take their eggs out on time.
Key Features
Faster egg cooking than the stovetop method
Measuring cup included
BPA-free transparent lid
You can steam vegetables in this too
360W rating
Up to 6-egg capacity
Tray lifting tool for ease of usage
Product Review and Description
The Chefman Electric Egg Cooker/Boiler is by design, for most of us. It has many features to help us be more comfortable and cause less inconvenience. Take the example of the high-pitched buzzer that goes off once the boiler has finished its job. Many of us might forget the eggs in the pot itself if it shuts down automatically. This can sometimes ruin your well-cooked eggs. The buzzer helps us in reminding ourselves to take out the eggs after cooking.
Another example can be the tray lifting rod at the center of the plate. When the eggs cook and they are hot, it is difficult to remove them with the base plate. You can't touch it with bare hands, and the gloves can be a bit slippery. The rod at the center can be used to lift everything without spoiling anything!
The boiler is available in two different colors, red and black. The transparent lid allows us to see in real-time if the water has dried out of if our eggs have cooked. You can prepare boiled, poached eggs, scrambled eggs as well as egg omelets in this thing!
The accessories in the package include poaching bowl and egg holder, tray lifting tool, measuring cup and the transparent, ventilated lid. The measuring cup is handy as the amount of water put inside the boiler determines the differentiates soft and hard boiling the eggs. If you get that wrong, you might end up having to eat something different than what you expected!
The included tray lifting mechanisms makes removing the eggs from the boiler very easy
All the accessories included in the retail packaging are a big bonus
Cooks eggs relatively faster than stove and pan methods
Excellent addition to your kitchen for the price
Lid closing mechanism makes it difficult to remove the lid when the cooking finishes because of the heat
Does not turn off by itself
Creates high-pitched irritating buzz when done
Cleaning can be a mess sometimes
This last product rounds up our take on the top 10 egg boilers that you should buy right now. Not every one of us likes to cook in the same way, neither the requirements of each one of us for the egg boiler are the same. So, the best egg boiler will be different for each one of us. We did our part to the best we could to make your job easier to choose what's best in your use case.