Daily chores often become troublesome for many.  Starting from cooking to dusting, you may not get even a minute to sit and relax and enjoy a cup of coffee. However, with the up gradation of technology, there have been a lot of inventions that help shoulder the burden of daily chores. The bread machine is one such inventions that make your kitchen works easy to handle.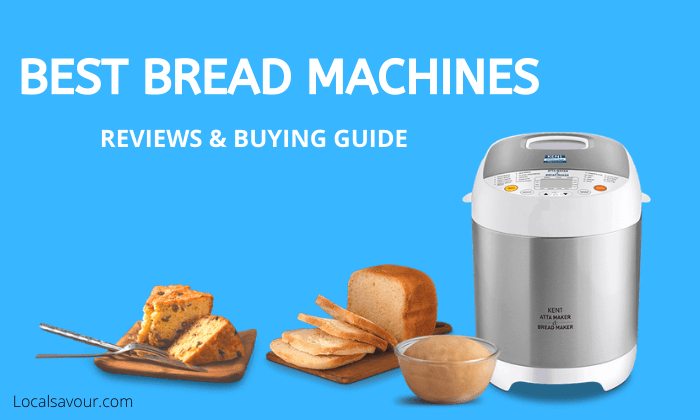 A bread maker is a home appliance that makes bread without any hassle. The tedious process of making bread becomes a less time-consuming affair if you buy a bread maker. Read on to know some of the amazing benefits that this machine can provide you with.
Best Features Of Bread Machine
There are several reasons for buying this machine. It is a more convenient option starting from home-makers, working women to chefs in restaurants.
Automatic & simple:
The bread makers available in the market are automated. It will reduce the time and effort that you put in to make bread. Making breakfast before leaving for office will be no longer a hassle when you consider using this machine. Get one today and sneak that extra hour of sleep in the morning.
Allow you to do multi-task:
As your machine is an automatic one, you can also get indulged in other tasks and let the bread maker do the rest. Just push the button and relax. Try once and you will be utterly satisfied.
Saves money in the Long Run:
If you use ovens to make bread or cakes, it consumes high electricity. However, in the case of bread makers, the scenario is different. These machines are energy-efficient and thus consume minimum electricity.
Capable of making other delicacies:
Bread makers do not only produce bread. There are different bread makers with advanced technology that can also produce jam, knead pizza and pasta dough as well. Isn't it exciting?
As you know about some of the benefits of a bread maker, have you changed your mind already? Do not worry; choosing the best one will never be a hassle for you. Here are 10 best and latest bread makers which you can consider purchasing.
Also Read:  Best Indoor Grills and Instapot Reviews from our Blog section.
Best Bread Machines in 2020 : Pros & Cons
1. Zojirushi BB-PDC20BA Home Bakery Virtuoso Plus Bread Maker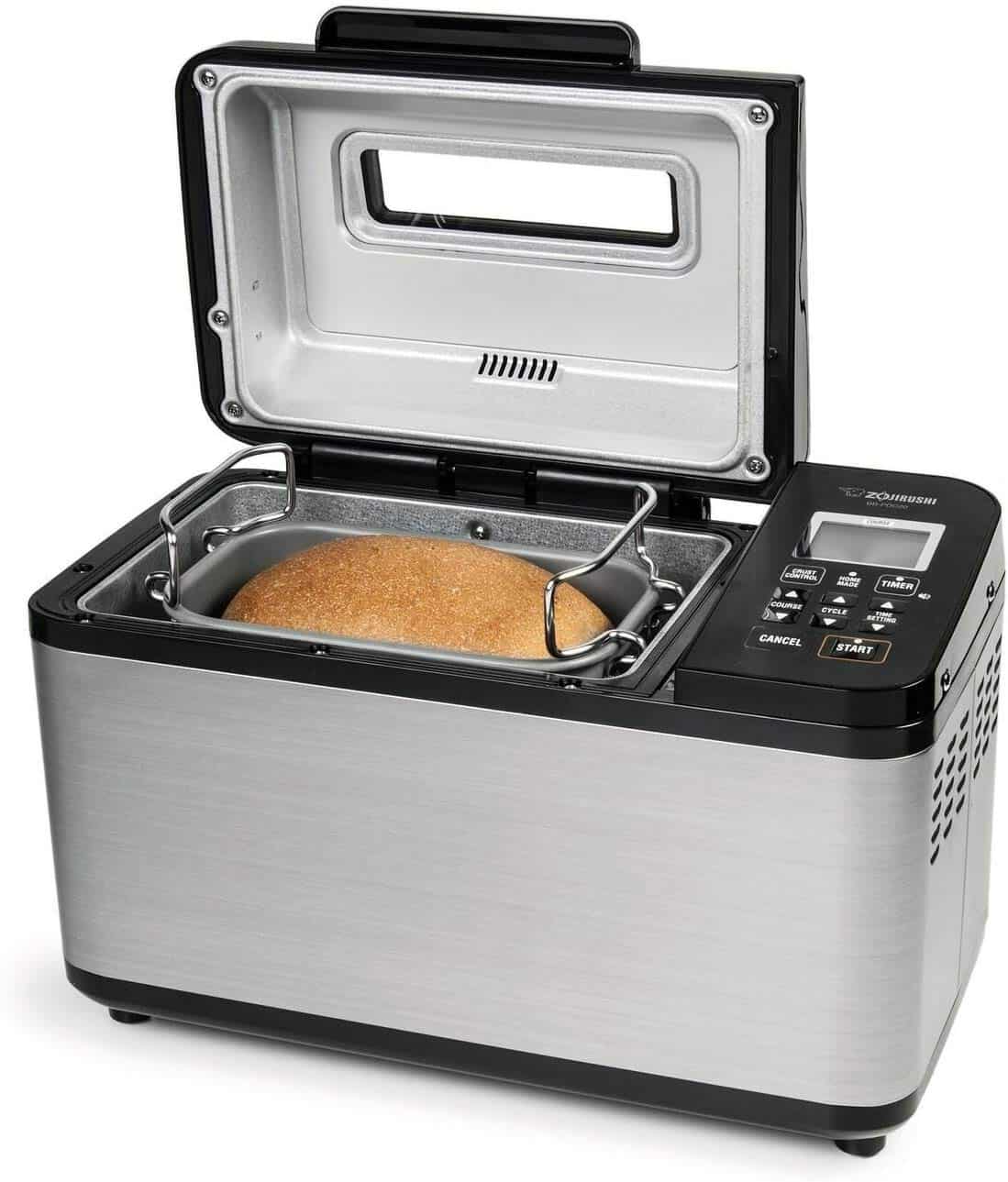 This bread maker is the first choice of chefs. With advanced technology and numerous beneficial features, Zojirushi can make your work easier in a jiffy.
Key Features:
It has various healthy course settings. You can select the mode according to the type of flour you use like multi-grain, whole wheat, gluten free, salt free, sugar free, etc.
Double kneading blades to knead the dough thoroughly
Dual heaters on the bottom
Rapid courses that bake a loaf in just 2 hours 25 minutes
An LCD with easy-to-read display and convenient key code on the lid to simplify the process of course selection.
This machine with multi-feature is the best one for you if you want to explore your inner chef. Want to try?
Can even make dough for browning or baking
Superior results with rapid setting mode
Electric rating is 120 volts/700 watts
Expensive
Likely to consume more electricity
Problem with stirring
2. KBS Stainless Steel Bread Machine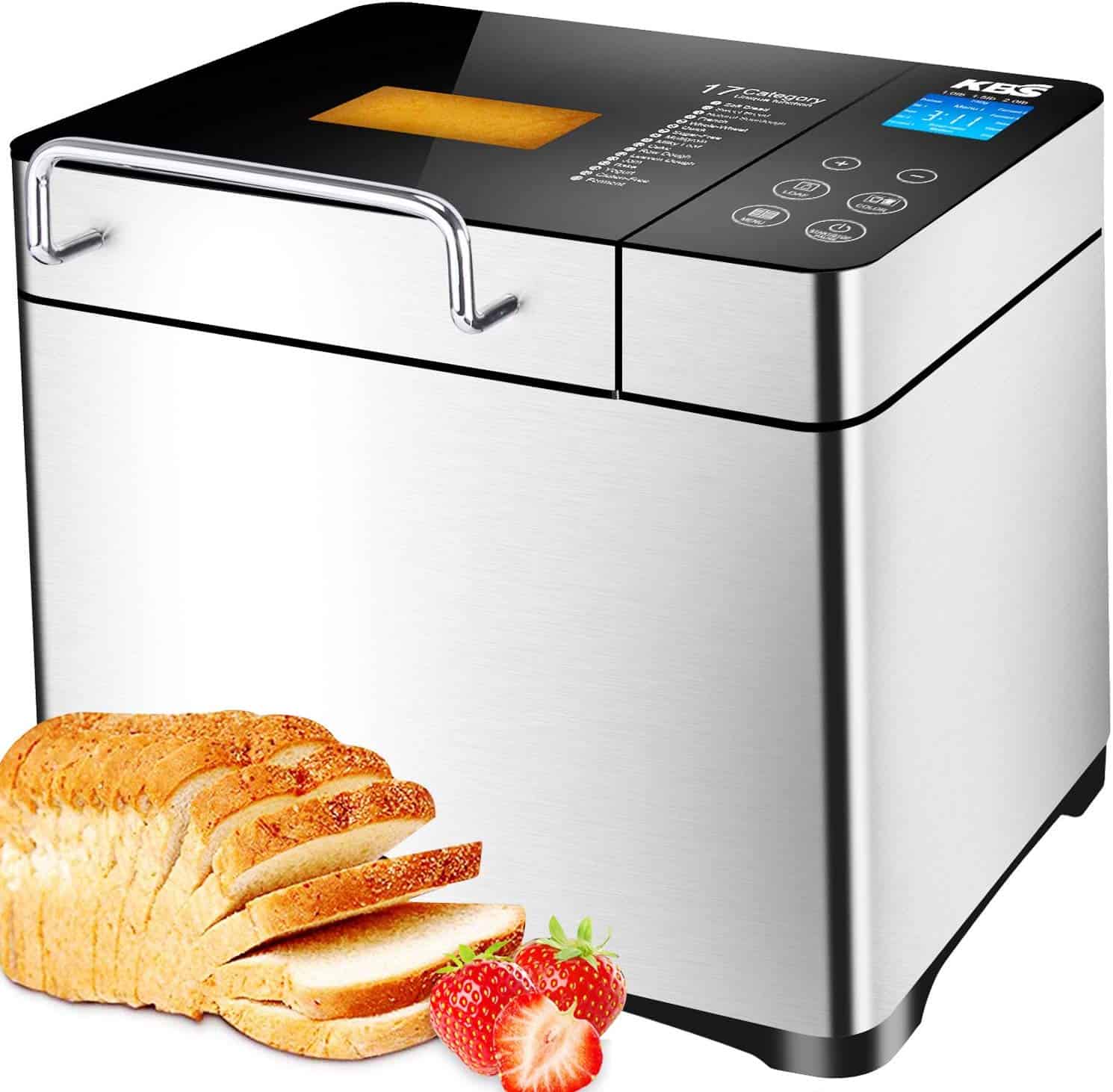 This is one of the best bread machines available in the market. It helps you to prepare a lot of baked delicacies with its multi-feature advanced technology.
Key features:
It has automatic program with LCD touch Panel
It has all total of 19 programs where different modes can be selected
You can select the color, crust, and the loaf size as well
15-hour delay timer and 1 hour automatic keep warm facility
Non-stick ceramic pan with no chemicals
Built-in micro processors and monitors
Detachable fruits and nuts dispenser
This bread machine is the perfect all-rounder that you need as a home appliance. It not only reduces your effort but also allows you to intake healthier and tastier bread.
Power interruption recovery system
Patented heaters to generate controlled heat
5R/s high rotating speed
Handy viewing windows
Not a very classy design
Heat fluctuating tendency
3. Breville BBM800XL Custom Loaf Bread Maker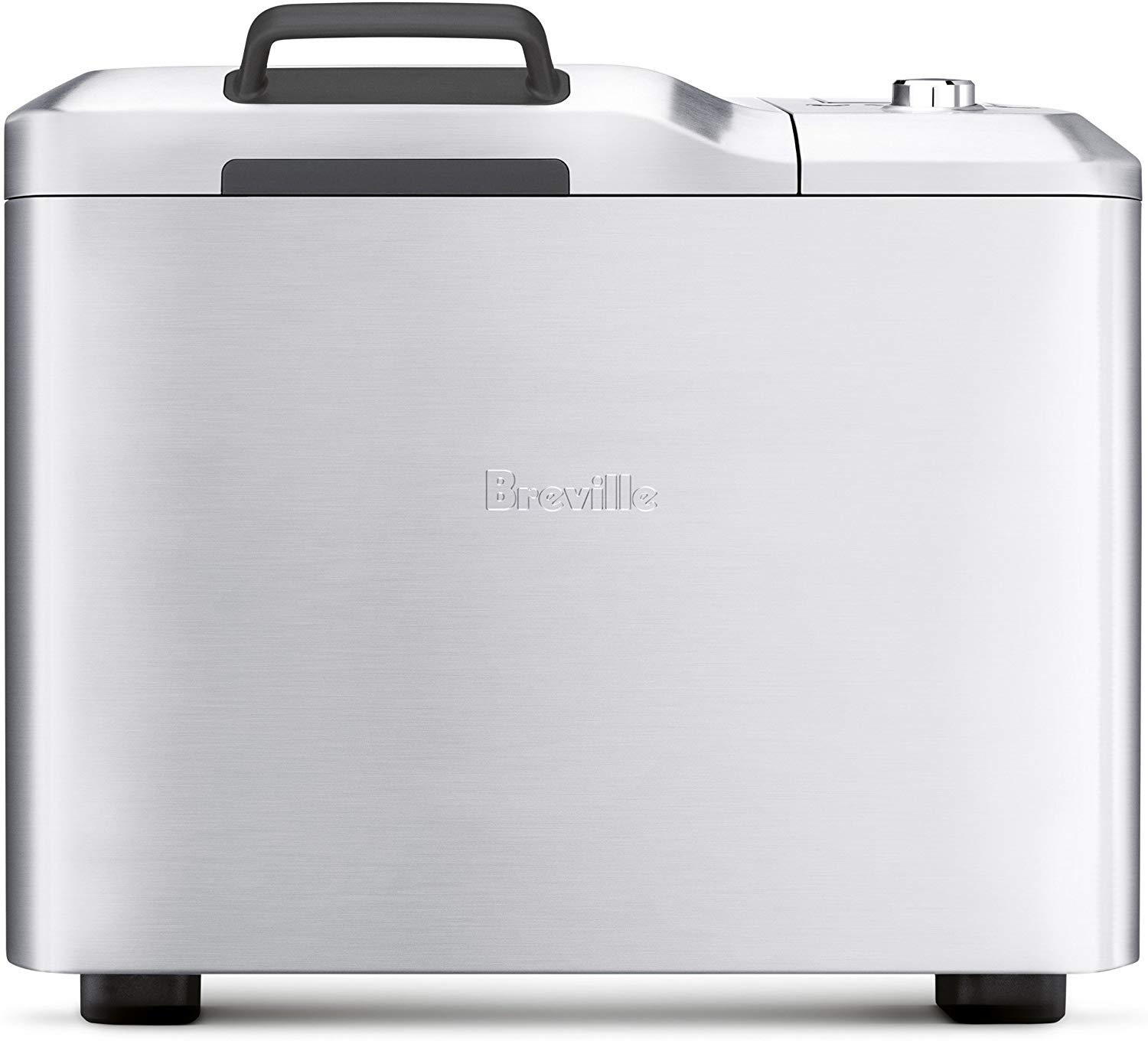 Multi-mixer technology with automatic fruit and nut dispenser, this machine is the best to save you a lot of time.  Check out the key features.
Key Features:
Automatic fruit and nut dispenser allows to get mixed with the dough within seconds
Unique collapsible kneading paddle
13 automatic settings displayed on smart LCD screen. It has 3 crust color options and 4 loaf size.
Loaf sizes include 1.0-pound, 1-1/2-pound, 2.0 ln and 2-1/2-pound (Family size)
This one is the best machine for an occasion. As you can produce family size bread, your breakfast will be ready without any trouble.
Voltage 110-120, 830 watts
Loaf size can be customized
46 step-by-step recipes
Automatic Settings
Sometimes the bread turns out very brown
Expensive
Heat resistance problem
4. Hamilton Beach 29882 2 lb Non-Stick Bread Maker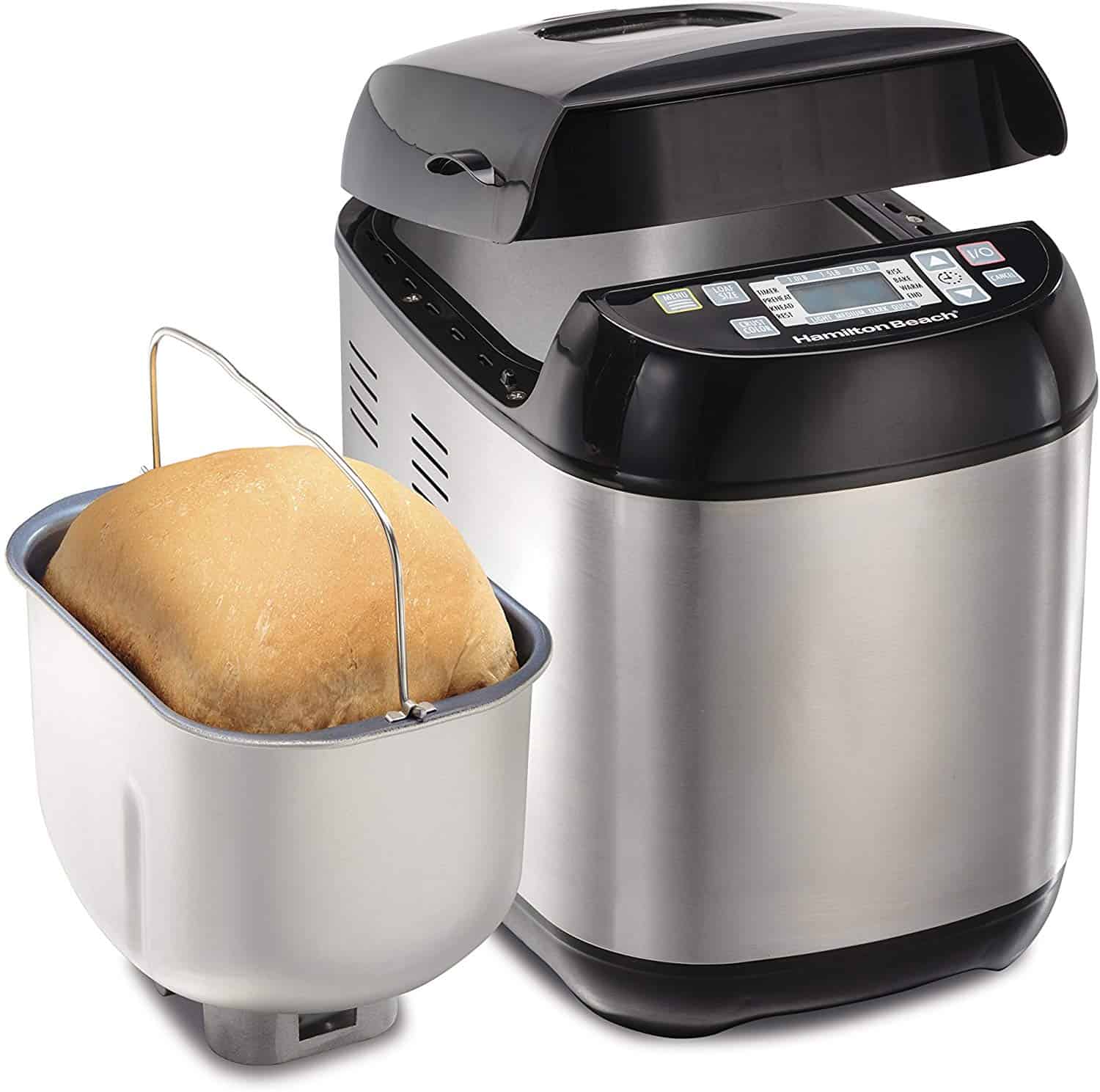 This machine is totally gluten-free and totally developed with nutritious bread. It is also easy to make quick and yeast-free bread with audible reminders. Try out and be tension-free while making breakfast.
Key Features:
5lb express, 2-lb express and can make the dough, jam, cake, whole grain, etc.
You can choose loaf size with medium or dark crust setting
Large digital display with delay timer
Non-stick dishwasher with kneading panels
Interior pan is removable
Audible reminder for adding fruits and nuts
Get one and make the best bread for your breakfast.
12 settings with gluten-free automation.
Easy to clean
Timer function
Easy to use
Plastic cover
Paddle froze facility
Expensive
5. Automatic Bread Maker, Aicok 2 Pound Stainless Steel Bread Machine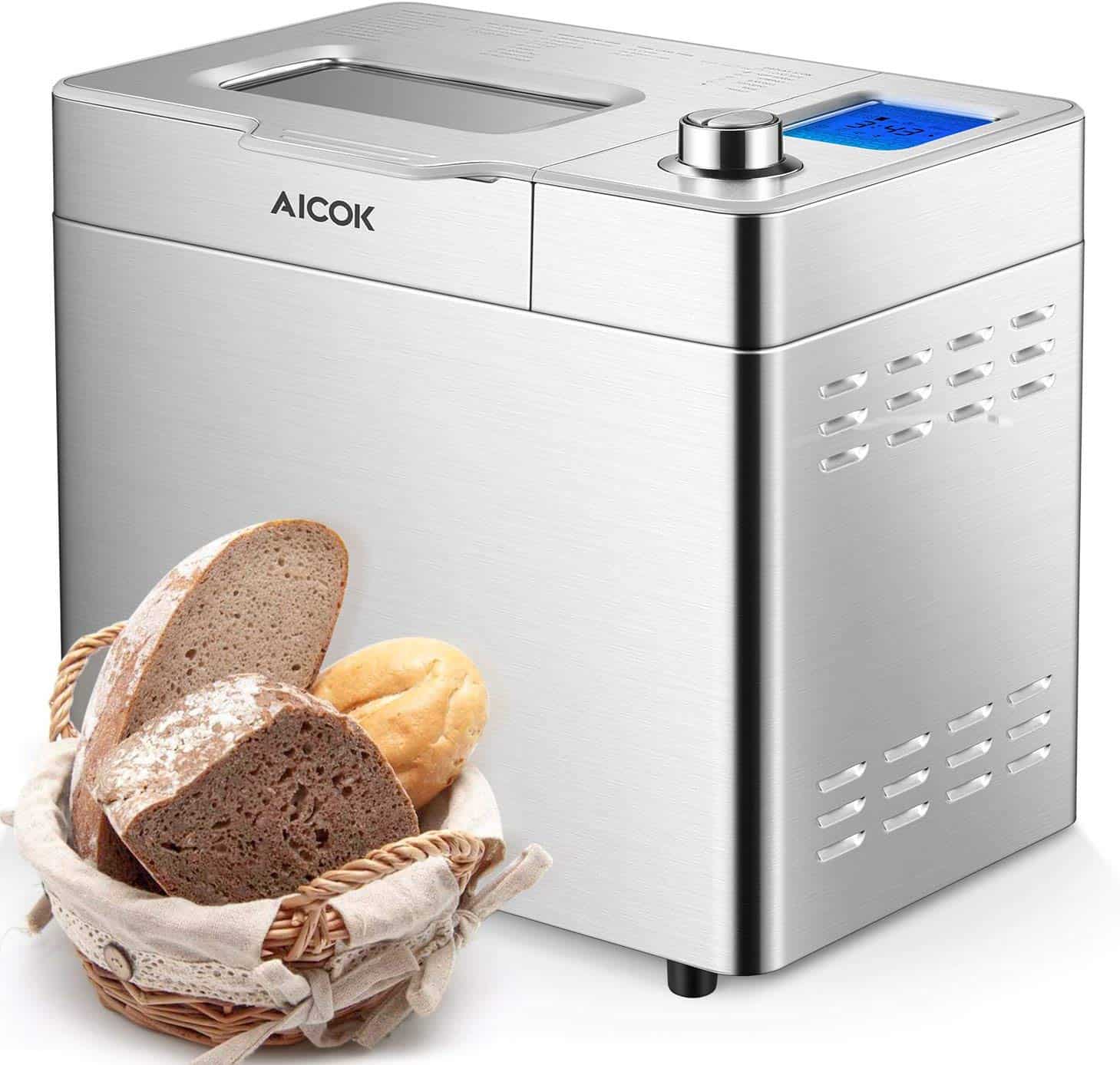 Your baker's mind will get encouragement when you start using this bread maker. When you start using this automatic machine, you can prepare dough for cake, brownie and more.
Key Features:
19 automatic programs including gluten-free
3 crust colors with different baking facility
Automatic control panel
High power and ultra high-speed mixer
Fruit and nuts dispenser and large view window
15 hour timer & 1-hour automatic warm-keeping function
2 years warranty
You can make your baking process smooth when you use this machine. It is a safe purchase and also affordable.
You can make Jam, Pizza, Fresh bread, and cake
15 minute power interruption recovery
Excellent baking experience
North American electrical standards
Heavy noise
Heavy electricity consumption
Takes a lot of time
6. Secura MBF-016N Bread Maker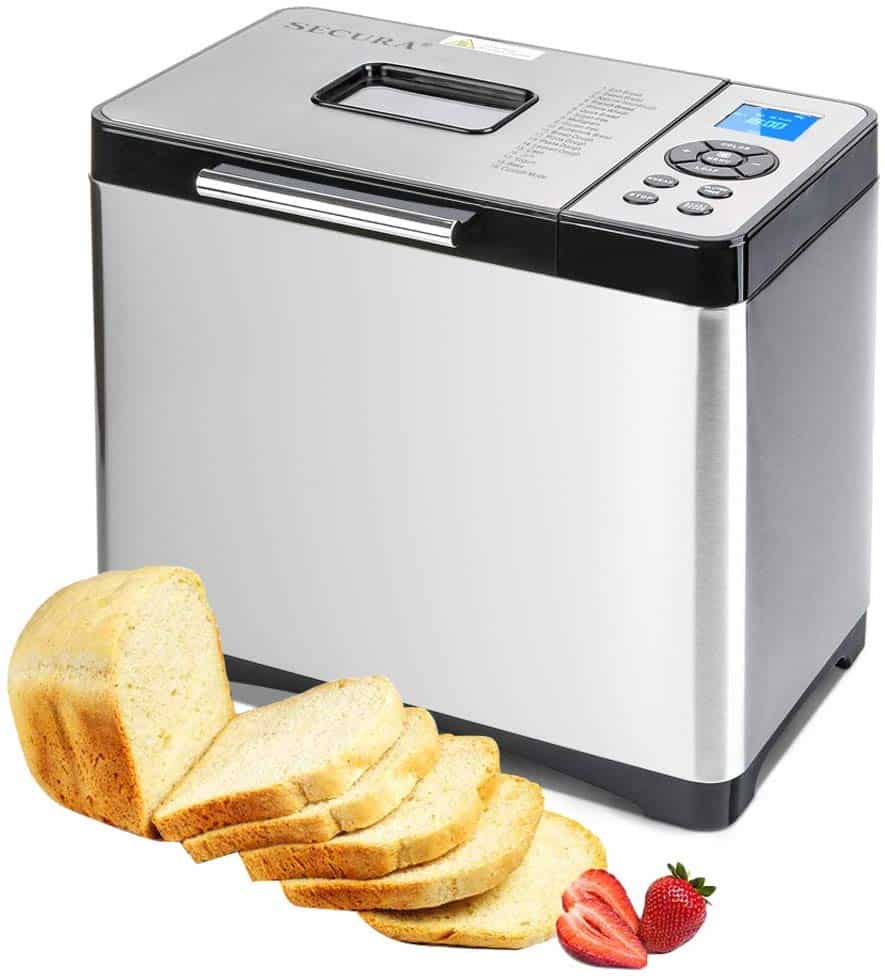 This bread maker can make your work easier. You can easily select your loaf size with a programmable LCD digital display. Try out and enhance your experience of baking.
Key Features:
It has maximum capacity of 2.2 pounds.
15 hour display timer
2 hours 'keep-warm' mode
19 preset menu settings
Electricity disconnection memory
15 minutes of power-saver mode
Add-in ingredient feature mode
Non-stick bread pan with dishwasher mode.
With these amazing key features, get ready to make your perfect cake or pizza and bring a smile on your family members' faces.
Easy-to-use
No hassle in cleaning
Opportunity to learn a lot of preparations
Time taking
Very loud noise
7. SKG 2LB Automatic Programmable Bread Machine Multifunctional Bread Maker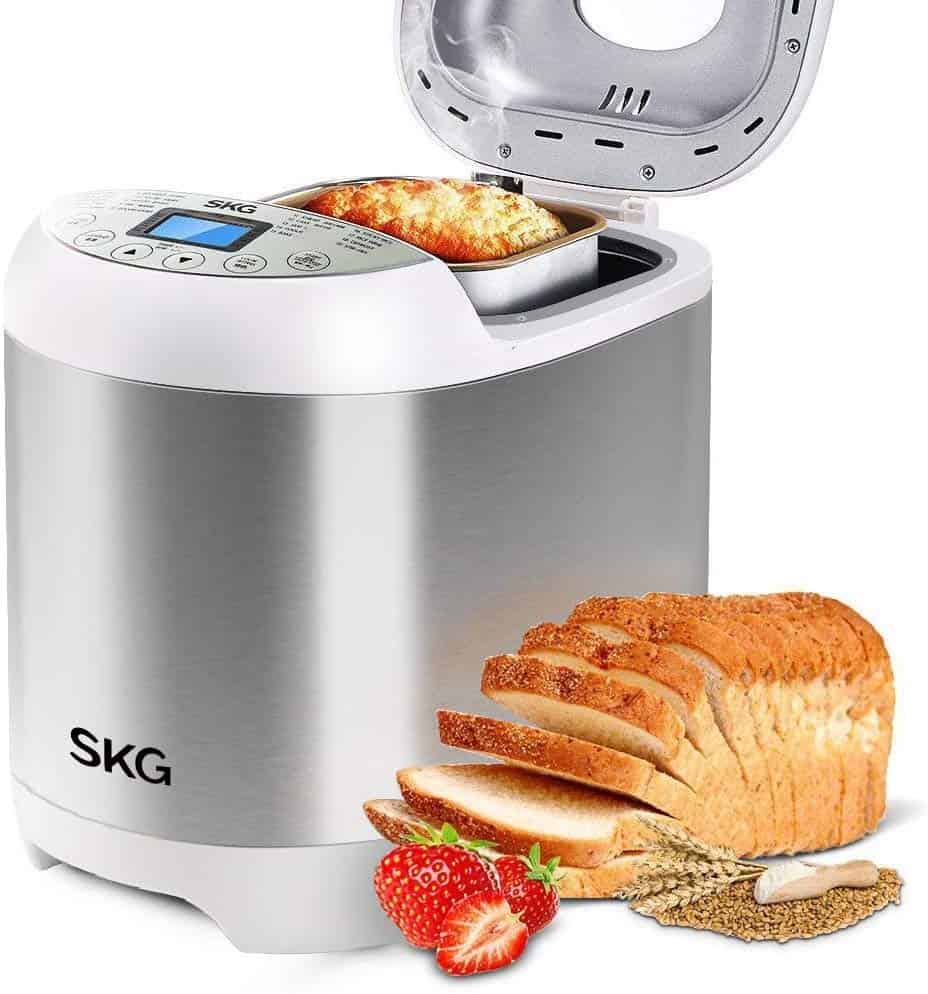 With 2 years warranty and superb customer support, this one is the best for you. You can easily make your freshly baked loaf ready just in an hour.
Key Features:
21 menu settings with 3 loaf size
Customize your bread with the help of different colors
15 hour delay timer to wake up
Brushed stainless steel pallet
15 minutes power interruption recovery system
10 LB in weight and 15 inches tall
This bread maker with a classy design is the best suited home appliance for your modular kitchen.
Non-stick coated inner pan
Top loading lid with viewing window
Timer setting mode
2 years warranty
More electricity consumption
Expensive
8. Sunbeam Programmable Bread Maker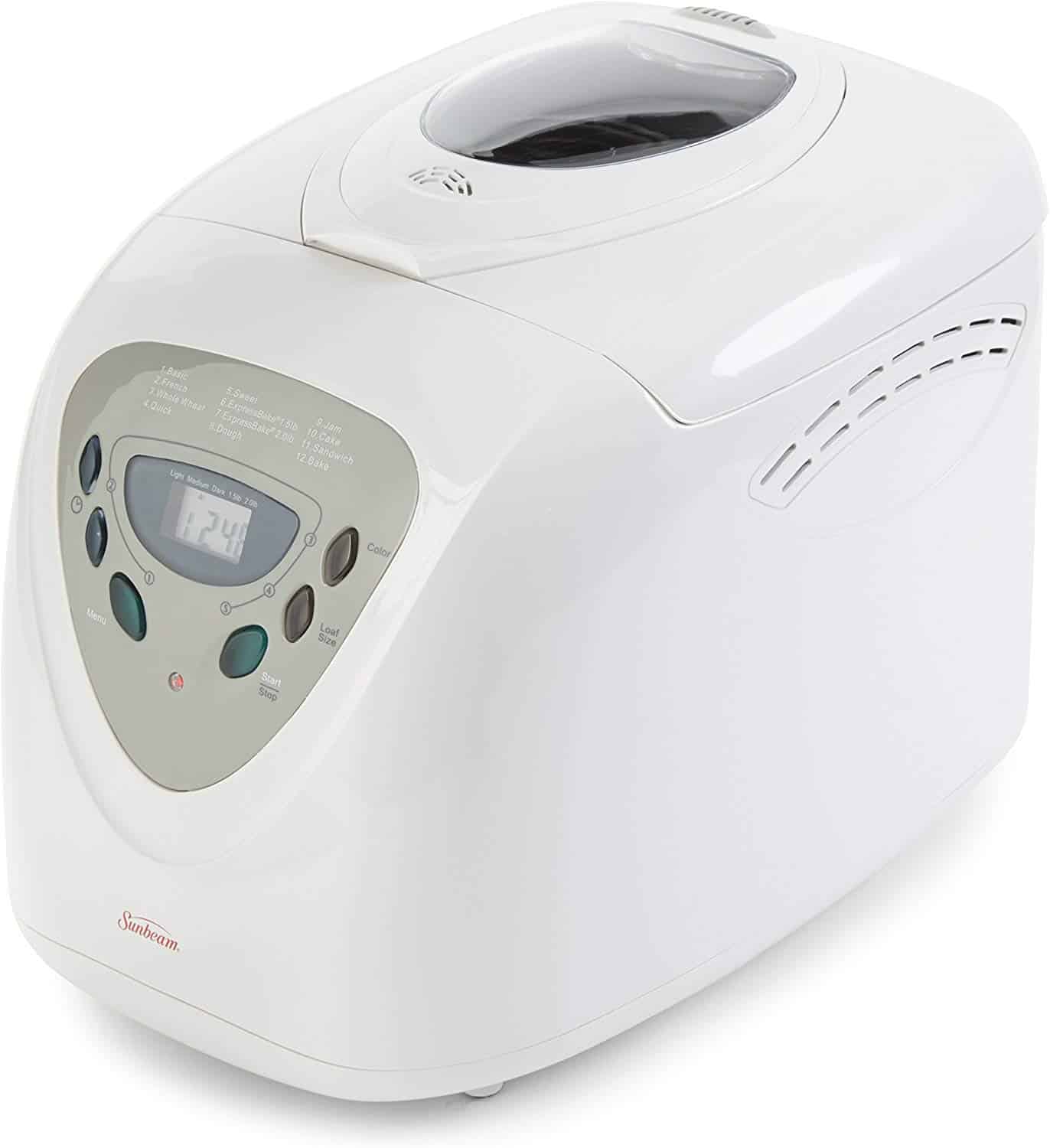 The price of this bread maker is quite affordable and sometimes lucrative discount is also provided.
Key features:
600W programmable bread maker
Capable of making 1-1/2 or 2 pound loaves
12 cooking modes with 3 different crust mode
Baking can be delayed up to 13 hours
Large LCD display with intuitive controlling button system
If you have a family of 4, this bread maker is best for you. Try out and make your breakfast without any hassle.
Use the machine without any hassle
Easy to clean
2 years warranty
Not a very classy design
Number of modes are less than any other bread maker
9. Homever Bread Maker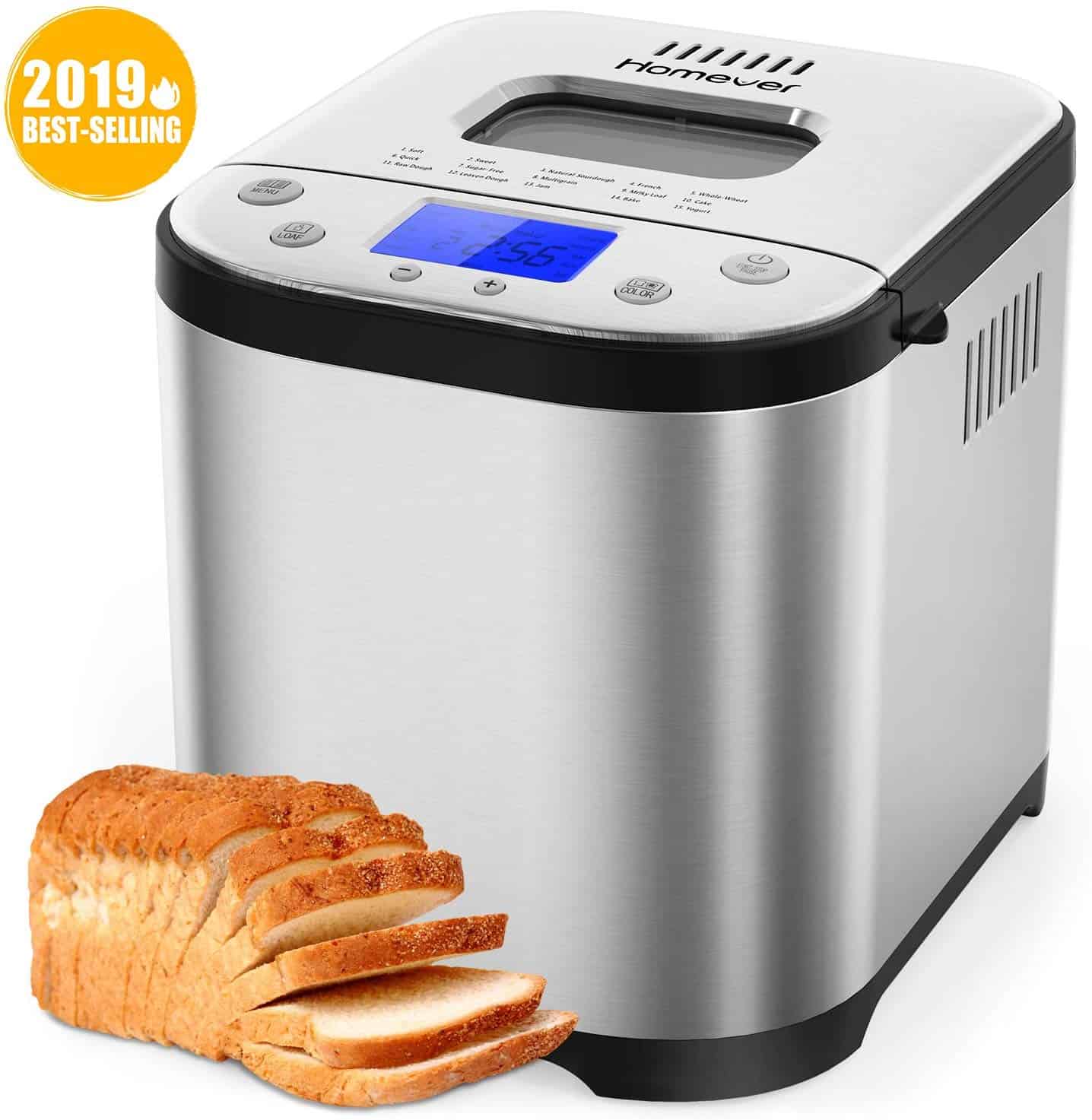 This bread maker comes with an automatic sugar-free setting. This multiple-bread function is best for your home. Buy today without any delay.
Key Features:
The bread maker has a whopping 15 bake dough programs
3 loaf size with different flavors
2019 upgrade material with advanced features
8 inches LCD with backlit, laser carving process
1 hour Automatic Keep Warm settings with 15-minutes power saving mode
1 year warranty
You can buy this bread maker if you are a working woman. Bake French bread, cake, and gluten-free cake and your kids will simply love it.
Multiple function bread maker
Varnished in silver color blend
24 hours customer support
Not more than 1 year warranty
Loaf size is 1 pound (smaller than other brands)
10. Cuisinart CBK-110 Compact Automatic Bread Maker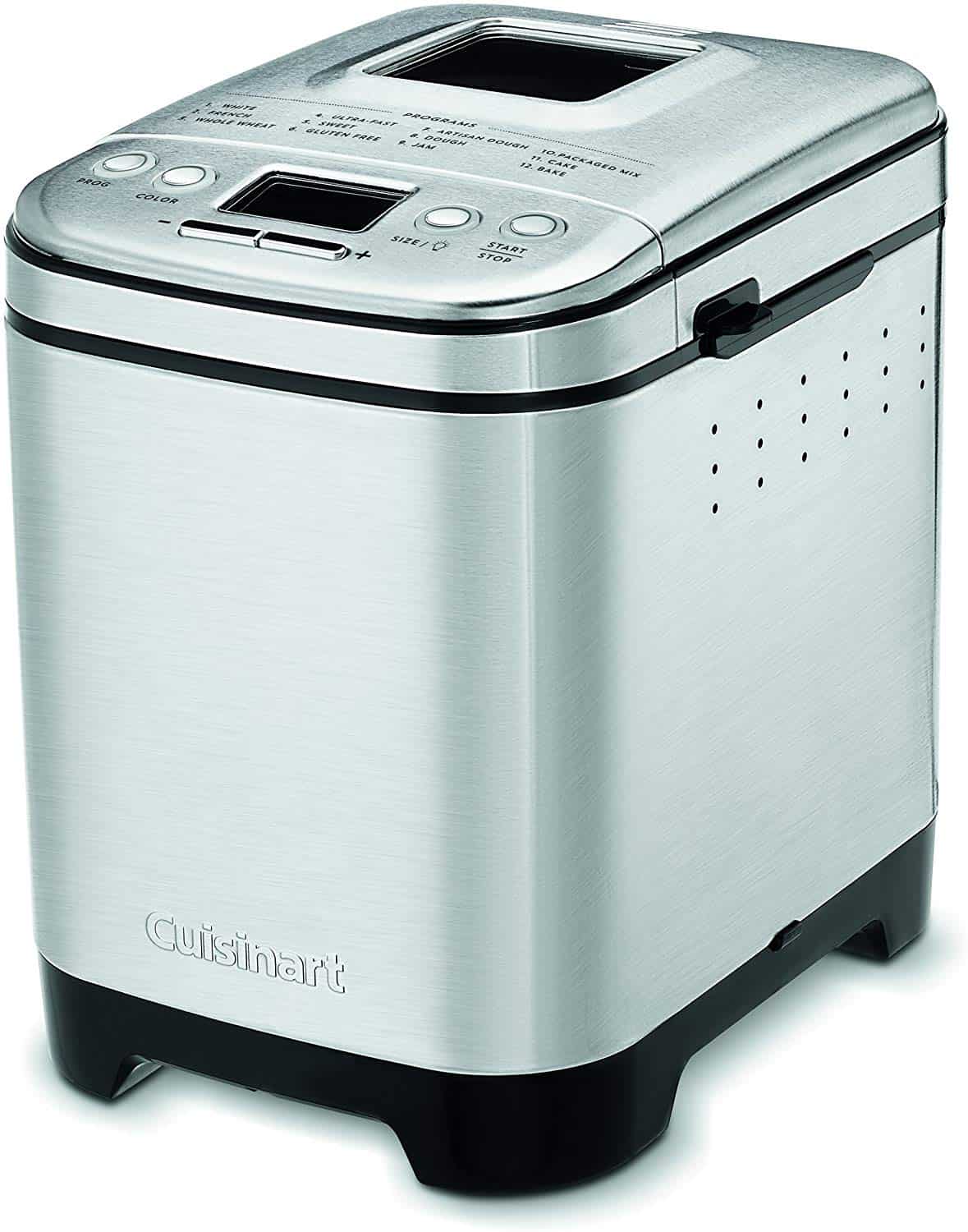 This is also an affordable bread maker best for your home. Try out and never be late for work.
Key features:
The superior crust, color, and texture with high-quality technology
12 pre-programmed menu options which are fully automatic
3 crust shade that can bake up to 2-pound loaf
Removable kneading paddle and bread pan
13 hour delay start
This bread maker is very easy to use the machine. You can try out the 46 different recipes in the cooking book.
Mixes, kneads and bakes instantly
Easy to follow instructions
Affordable
1 year warrantee
Crust mode is not up to the mark