There has been an increasing trend of adding pizza ovens to one's outdoor kitchen. These outdoor kitchen ovens have risen in popularity and preferences due to their comparatively quicker cooking time, the cooking versatility it provides and the convenience of usage. These pizza ovens provide a different approach to the classic barbecue tradition and providing friends and family to enjoy some delicious home-cooked pizza made in the comfort of one's own backyard instead. It provides a unique take on pizza, where, instead of ordering from the nearby pizzeria, one can rather enjoy a hand-made pizza with preferred ingredients.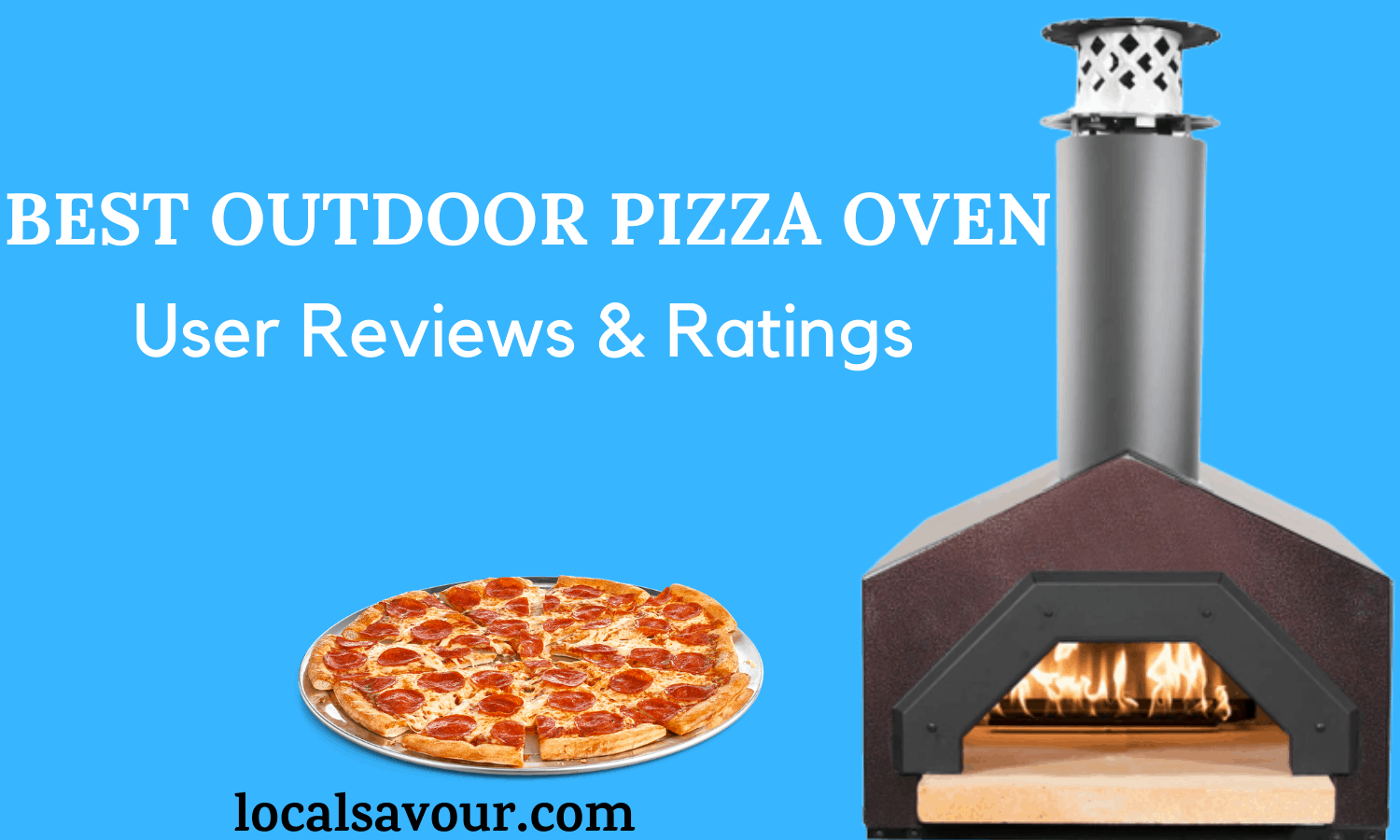 Another advantage that comes with owning a pizza oven is that it's an ideal choice for roasting chicken, searing steaks and even baking cookies. In order to ensure that you purchase an outdoor pizza oven that is perfectly suited for your needs, given below is a thorough buying guide. It lists out what one needs to look for when buying a pizza oven, the different types of pizza ovens and the top ten outdoor pizza ovens available on the market.
Features to Look for While Selecting The Best Outdoor Pizza Oven:
One of the most important features to ensure an outdoor pizza oven is equipped with an accurate temperature gauge. It helps the user decide the correct timing to put the pizza into the oven to ensure an even and consistent cooking. Another aspect to look out for should be pizza ovens that are equipped with conduction, convection and reflected heat that ensures equal distribution of heat over the pizza to ensure the same rich golden brown all over, with the right texture. This form of combined heat ensures that the pizza toppings are cooked at the same rate of the dough so that all your ingredients are evenly cooked as you slice through your pizza.
There is usually a preference for ovens that have a bigger capacity so that it can bake multiple pizzas at once. This is usually recommended if the user has to serve guests who have varying tastes and have to cook according to their requirements. There is also an aesthetic factor that is taken into consideration. While some prefer a modern and sleek design for their outdoor pizza oven, some prefer a classic, traditional oven that provides a rustic look. The visual appeal of an outdoor oven depends on the overall look that it provides when it comes to being matched with one's patio. No matter what kind of look one has adopted for their house and patio, there's always an outdoor oven design to match. Given below are some more factors that can be considered while choosing the most suited outdoor pizza oven:
Source of Fuel
The classic, traditional pizza ovens rely on hot chunks of wood, or wood logs as their source of heat. This is primarily because of the fact that a wood-burning oven reaches up to 800 degrees Fahrenheit and more, making it compatible with a fast and even cooking time. It also helps in adding a crispy crust to the pizza's base.
While a wood-burning oven usually seems like a good choice, more recent outdoor pizza ovens have been made compatible with other fuel sources. Propane and wood pellets have been replaced with the traditional logs of wood as they have proven to be more efficient and considerably less messy while reaching incredibly high temperatures at the same time. It is easier to manage the correct temperature of the oven if one is using a gas pizza oven. However, a wood burning pizza tends to give a smoky flavor to the pizza that doesn't come from gas-burning ovens, and also, can cook a pizza much faster than a gas oven.
Size & Portability
Those individuals who have a habit of going for camping trips, or visiting friends' home for a backyard party are recommended to get an outdoor pizza oven that is lightweight and portable. It helps in easy transportation, and if the pizza oven can be easily assembled and disassembled, then it makes it all the easier to transport as well as clean. It would also ultimately take up less space for storage. Smaller ovens are usually better options when it comes to patios and terraces. They provide a compact cooking experience and use less fuel than a larger oven which helps it reach the required cooking temperature faster. Larger ovens provide more space to bake more pizzas simultaneously. It also makes it easier to change the heat accordingly in order to ensure a better distribution of the heat.
Durability
One should always look at how the pizza oven is constructed and the materials that it's composed of. It's recommended to consider those pizza ovens made up of durable materials such as stainless steel that would last for longer periods. It may be expensive but will contribute to better performance and pay off ultimately in the long run.
Best Outdoor Pizza Ovens 2020 – Pros & Cons
1. Lynx Napoli 30-inch Gas Outdoor Pizza Oven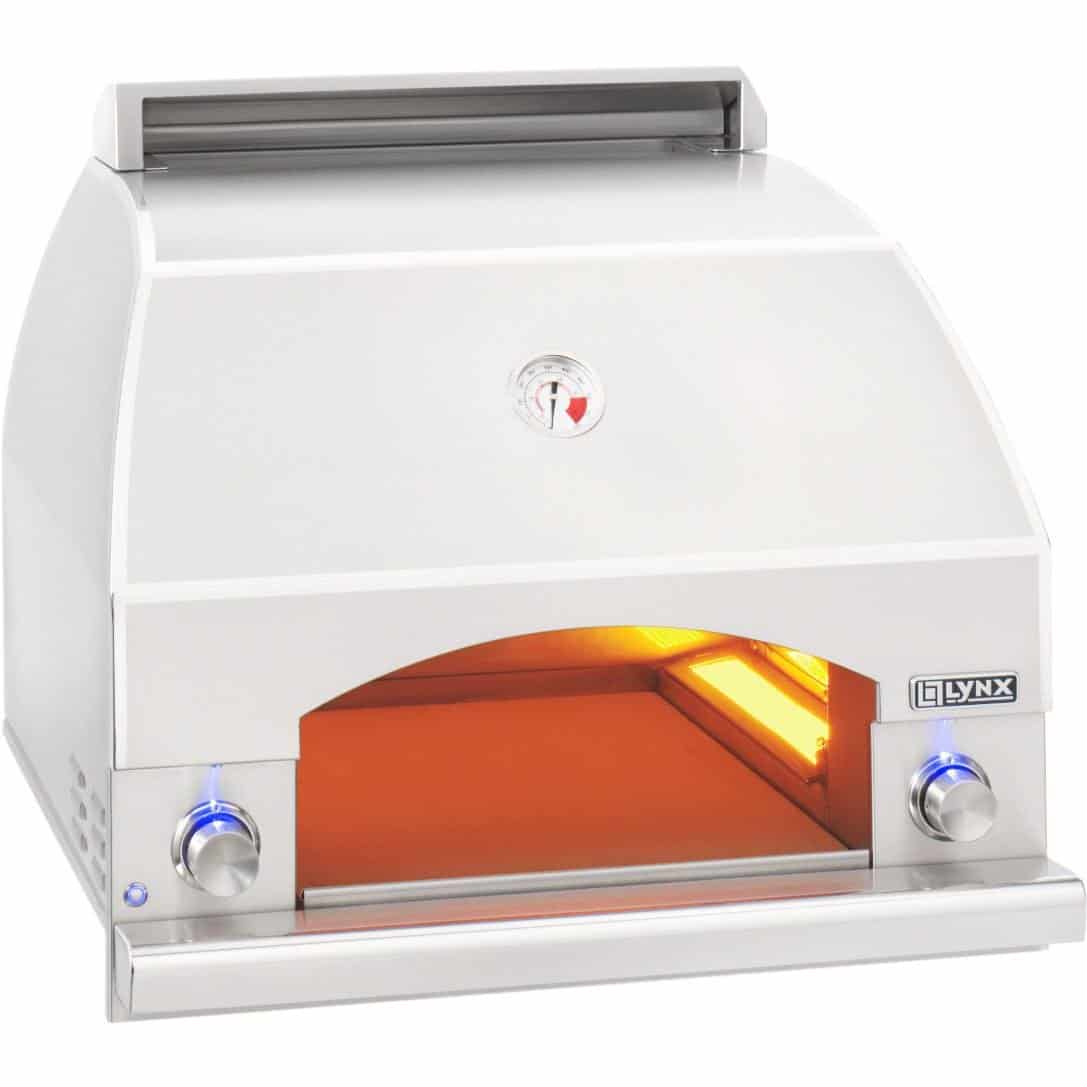 The Lynx Napoli outdoor pizza oven is an ideal choice of an outdoor pizza oven for those who are confused between a counter top or a built-in gas pizza oven as it can be compatible with both. The Lynx Napoli Pizza Oven can bake an 18-inch pizza, with specially formulated inside the heating system with a 400 square inch cooking area that is suitable for the required amount of high heat for the pizza. Here are some of the key features of the Lynx Napoli Pizza Oven:
 Key Features
Infrared heating system that has the capacity to preheat to 700 degrees at a fast rate
Easy access to food provided by the cooking surface that pulls out and prevents burning one's hand
Interior halogen lighting, along with an LED control knob lighting lets users bake pizzas at any time during the day
Pizza peel comes with the purchase for a complete pizza making experience
High quality interior, along with impressive cooking surface spreads and evenly distributes heat across the pizza
Product Review and Description
Due to the oven being equipped with an infrared heating system, it effectively saves the amount of energy consumption by quickly preheating to 700 degrees Fahrenheit. A unique feature of this outdoor pizza oven is that the cooking panel can be pulled forward for the convenience of adding some extra, last minute toppings or even removing the pizza easily. The blue LED illumination in the control knob ensures that the outdoor pizza oven can be used at any time of the day, regardless of whether it's day or night. There is also a halogen light attached to the interiors.
The outdoor pizza oven is made of a stylish and sleek stainless steel design, ensuring increased durability and longevity of the oven. There's a reversible chimney equipped that provides the feature of control where the smoke and the heat from the oven go so that it doesn't stain the walls with ash or bother the guests. The Lynx Napoli Pizza Oven comes with an aluminum pizza peel, which is a convenient help in the removal of the freshly baked pizza.
Quick preheating
Increased durability.
Takes longer to bake compared to a traditional oven
Can only bake one pizza at a time
2. Alfresco Countertop Outdoor Pizza Oven
This outdoor pizza oven from Alfresco provides a high-quality performance with natural gas as its fuel source. With an impressive preheating rate of only 16 minutes, this pizza oven can reach up to a whopping 1,000 degrees Fahrenheit. Users can roast, iron-skillet sear, bake and even cook the perfect Neapolitan pizza in only four minutes. The oven is equipped with an infrared hearth heating system that is accompanied by a rear burner, boasting a total of 40,000 BTU's of massive cooking power. There is a double-walled insulated interior, as well as gas logs, that help in holding and retaining the heat. Here are some of the key features of the Alfresco Countertop Outdoor Pizza Oven:
Key Features
Radiant heat helps in cooking pizzas in only four minutes
Halogen light equipped in the oven's interior helps in easy monitoring of the pizza
456 square inches of space can help with cooking large pizzas for a big crowd
Adjustable legs help in easily placing it on a countertop
Infrared burner cooks pizza in just four minutes
Product Review and Description
The oven provides a sleek, modern look with stylish glass doors. It also has an added benefit in terms of helping users keep an eye on their pizza while it's cooking. The halogen light in the ovens interior also helps keep an eye on the pizzas cooking during the night. The glass doors and the removable arch make cleaning the pizza oven extremely convenient. With the 456 square inches of space, the oven can easily bake a 14-inch pizza for a big group.
Alfresco Countertop Outdoor Pizza Oven also comes equipped with adjustable legs – a design which helps in a convenient placement on the countertop of an outdoor kitchen. This oven also provides a versatile cooking experience with its capacity to provide multiple cooking options. The oven is equipped with a stainless-steel wood and a herb box, which can substitute as a water pan that would help users in steaming – providing unlimited cooking options.
Versatile cooking experience
Adjustable legs
Pre-heat in 16 minutes
Only fits one pizza at a time
3. FornoVenetzia Pronto Countertop Outdoor Wood-Fired Pizza Oven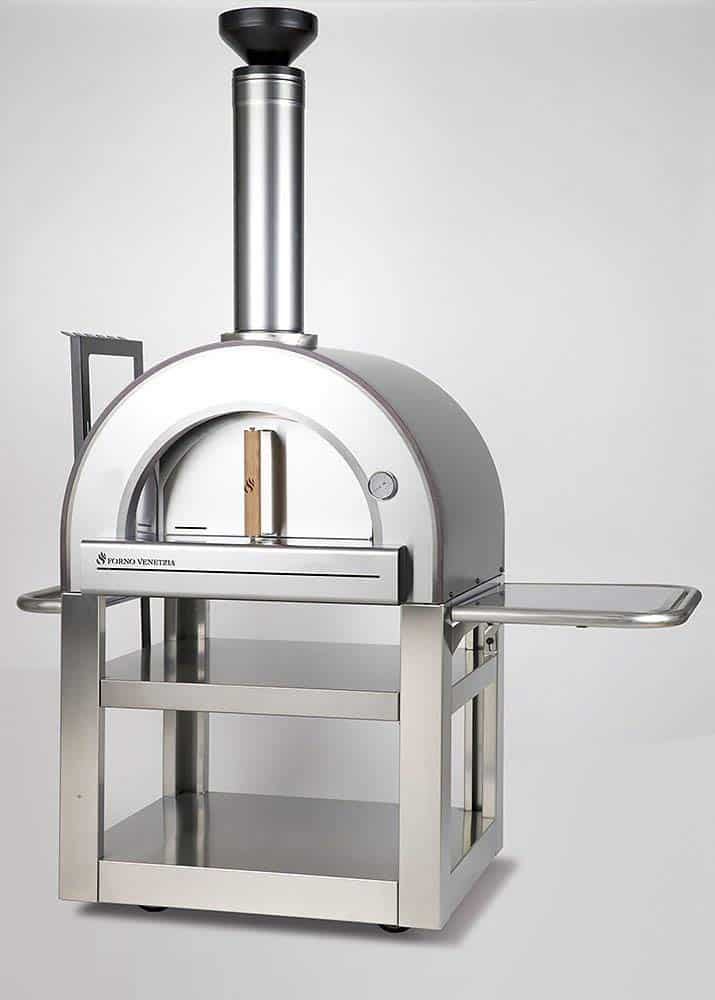 The FornoVenetzia Outdoor Wood-Fired Pizza Oven offers an exquisite authentic Italian experience when it comes to cooking a traditional wood-fired pizza. This Italian engineered and the designed oven is a recommended unit for those who have a limited countertop space in their outdoor kitchens. It offers users the ability to cook two small pizzas simultaneously due to the 24×20 inch cooking area. Layered with twice the ceramic insulation, the fire brick hearth traps and holds the heat and contributes to an impressive cooking performance. Given below are some of the key features of the FornoVenetzia Outdoor Wood-Fired Pizza Oven:
Key Features
Improved heat retention due to the double-layered ceramic insulation in the fire brick heart
24×20 inch cooking surface
Italian engineered and designed, providing an authentic experience
UV-resistant and durable oven dome finish
No curing required
Product Review and Description
The FornoVenetzia Outdoor Wood-Fired Pizza Oven ensures increased durability with a UV resistant finish that assists in the prevention of the color fading, ensuring that the sleek design lasts all year round. The oven is equipped with an internal thermometer that allows users to keep track of the temperature inside, and thus help in adjusting the cooking temperature according to the requirements or preferences of the gathering. The outdoor pizza oven provides an environment friendly cooking experience by consuming less fuel compared to other pizza ovens. Upon purchase, the oven comes fully assembled to prevent the hassle of setting it up and is ready to use without any additional time spent on installing or curing.
The FornoVenetzia Outdoor Wood-Fired Pizza Oven is capable of reaching temperatures as high as 800 degrees Fahrenheit, ensuring that your pizza is cooked evenly at a faster rate. The oven is composed of only the highest quality materials, with 304 stainless steel coating on the outside and 430 stainless steel on the interior of the oven. The carefully crafted brick hearth also contributes to an authentic brick-oven taste to your pizza.
UV resistant finish
Stainless steel design on the interior and exterior ensures durability
Comparatively smaller than other outdoor pizza oven models
Requires preheating for one hour
4. Chicago Brick Oven CBO-750 Countertop Outdoor Wood Fired Pizza Oven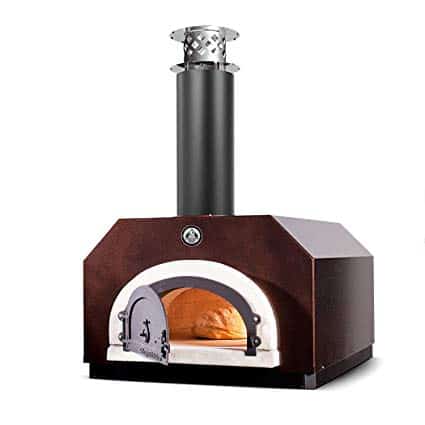 The Chicago Brick Oven brings the ultimate outdoor dining experience with its impressive performance, versatility and increased durability. This wood-fired pizza oven is equipped with a design that resembles an igloo dome inspired by Italian wood-fired ovens. It is not only capable of cooking wood fired pizza, but also chicken, steaks and other mouth watering recipes. The oven is designed in such a manner that the vent moves the flame horizontally across the ceiling of the oven, and then brings it down vertically through the sides, ensuring an even and thorough cooking of the pizza.
Key Features
Dome shaped design reduces cold spots in pizza and ensures that food is cooked evenly
41×28 inch cooking surface helps in cooking large pizzas
Comes fully assembled and ready for use
Equipped with infrared thermometer to keep track of internal temperature
Comes with a pizza peel and a cleaning brush
Product Review and Description
The Chicago Brick Oven can reach up to a heat of 1,000 degrees Fahrenheit, contributing to a delicious authentic wood-fired pizza in just 2 minutes. The specially designed exteriors and interiors ensure that the heat is retained within the pizza, reducing cold spots and ensuring that the radiant heat is efficiently used. The Chicago Brick Oven is an effective combination of the traditional brick oven design and modern, sleek engineering. The oven is composed of stainless steel fibers ensuring longevity and durable use.
The Chicago Brick Oven is known for its high performance, the convenience of usage as well as the authentic flavored pizzas that it makes. The oven is built to handle varying temperatures due to its outstanding manufacturing in America, made while considering the extreme weather one can be exposed to. The oven not only brings a part of Italy to your outdoor kitchen but ensures that it will last for the years to come.
The enhanced flavor of wood-fired taste through wood burning fuel
Igloo shaped design retains heat and cooks pizza evenly
Spacious interior
Reaches 1,000 degrees Fahrenheit
Requires curing
Assembly may be required depending on model
5. Pizzeria Pronto 18-Inch Portable Propane Outdoor Pizza Oven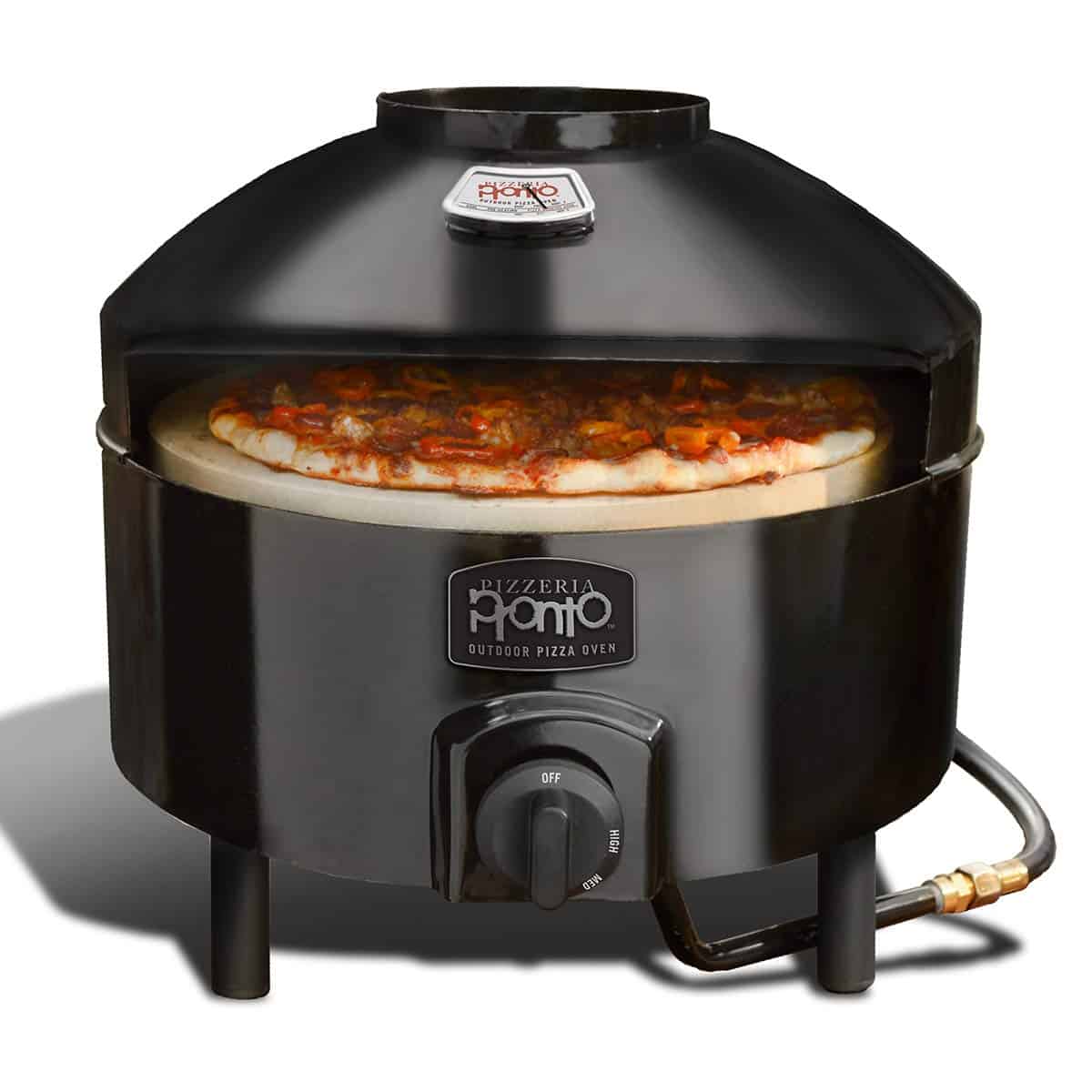 The Pizzeria Pronto Outdoor Pizza Oven is an impressive blend of performance and portability, making it an ideal choice for individuals who love freshly baked home pizzas in the comfort of any location. It's compatible with use on any surface. The burner reaches an impressive 700 degrees Fahrenheit and can preheat the oven in only 10 minutes, after which the perfect pizza can be made in just 5 minutes. It is a testament as to how this oven ensures that you're not using up excess time in cooking pizza.
Key Features
Light weight and portability make it easy to use for any event
Cooks pizza in only 5 minutes
Dual-layered stone steadily distributes the heat that ensures even cooking
Thermometer built into the oven helps keep track of oven temperature
Moisture vent lets out the moisture and prevents sogginess in order to ensure a crispy pizza
Product Review and Description
There are moisture vents equipped into the oven that ensures your pizzas don't get soggy from moisture accumulation inside the oven and resulting in a crispy pizza baked to perfection. The oven also has a built-in thermometer that allows users to maintain consistent cooking temperatures. The built-in reflective shield that helps in directing heat to the top layer of the pizza, ensuring consistent cooking of the crust and the toppings. The 20 pound propane tank allows for non-stop usage for 25 hours, which is up to 500 pizzas – an impressive feature that makes it stand out from other outdoor pizza ovens. The Pizzeria Pronto Outdoor Pizza Oven is not only ideal for pizzas, but also perfect for baking bread and making cookies.
Cooks pizza in only five minutes
Gas-fueled burner heats up quickly and saves time
Curing not required
Small oven size means that only smaller pizzas can be cooked
Can't cook heavy dishes like chicken or turkey
6. Camp Chef Italia Artisan Portable Propane Outdoor Pizza Oven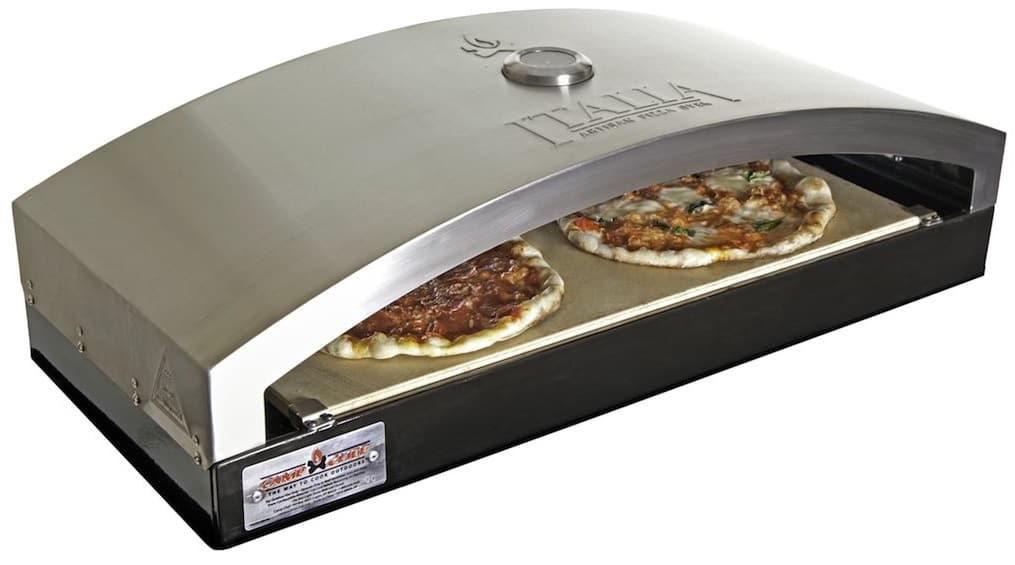 Divulge in the authentic taste of traditional Italian pizzas with the Camp Chef Italia Artisan Outdoor Pizza Oven. The oven mimics the performance of a traditional wood-fired brick oven but operating with the added advantage of managing the heat and temperature that contributes to a perfectly cooked pizza for every occasion, at any time. Here are some of the key features of the Camp Chef Italia Artisan Outdoor Pizza Oven:
Key Features
Powerful burner ensures preheating only in 15 minutes
Performs similarly to a wood-fired oven and helps bake perfectly cooked pizzas
Stainless steel manufacturing maintains the durability of the oven and makes it easy for cleaning
Portable design makes it an ideal choice for camping
Reach temperatures till 750 degrees Fahrenheit
Product Review and Description
This portable pizza oven can reach up to an impressive temperature of 750 degrees Fahrenheit, ensuring that your pizza is cooked perfectly in a shorter period of time no matter where you are. The oven has a double walled construction, which, when combined with the advanced ventilation system, improves the heating performance. The built-in ignition that is equipped with the micro-adjustment valve gives users full control over the flame, allowing them to bake the pizza according to their liking. With the oven's ability to preheat in only 15 minutes, the 13×20 inch surface allows for cooking pizzas, bread and even desserts in a short span of time.
The oven door is equipped with a handle that helps users to open and take out their pizza with ease. Constructed with high quality stainless steel, the oven is extremely durable and easy to clean. The stainless steel construction not only makes for an easy clean, but it also provides a sleek and modern look to the oven – especially with its measurements of being only 26 inches wide and 16 inches tall. It's compact and portable look gives it a unique preference in the market. The best feature of the Camp Chef Italia Artisan Outdoor Pizza Oven is its removable and ventilated front door with an attached handle that makes it easy to manage. Users can also experiment with different personal sized pizzas within the 260-square inch space that the oven provides.
No curing requires
Portable
Brick-oven taste
Fits only one pizza at a time
Not ideal for big crowds
7. BioLite Basecamp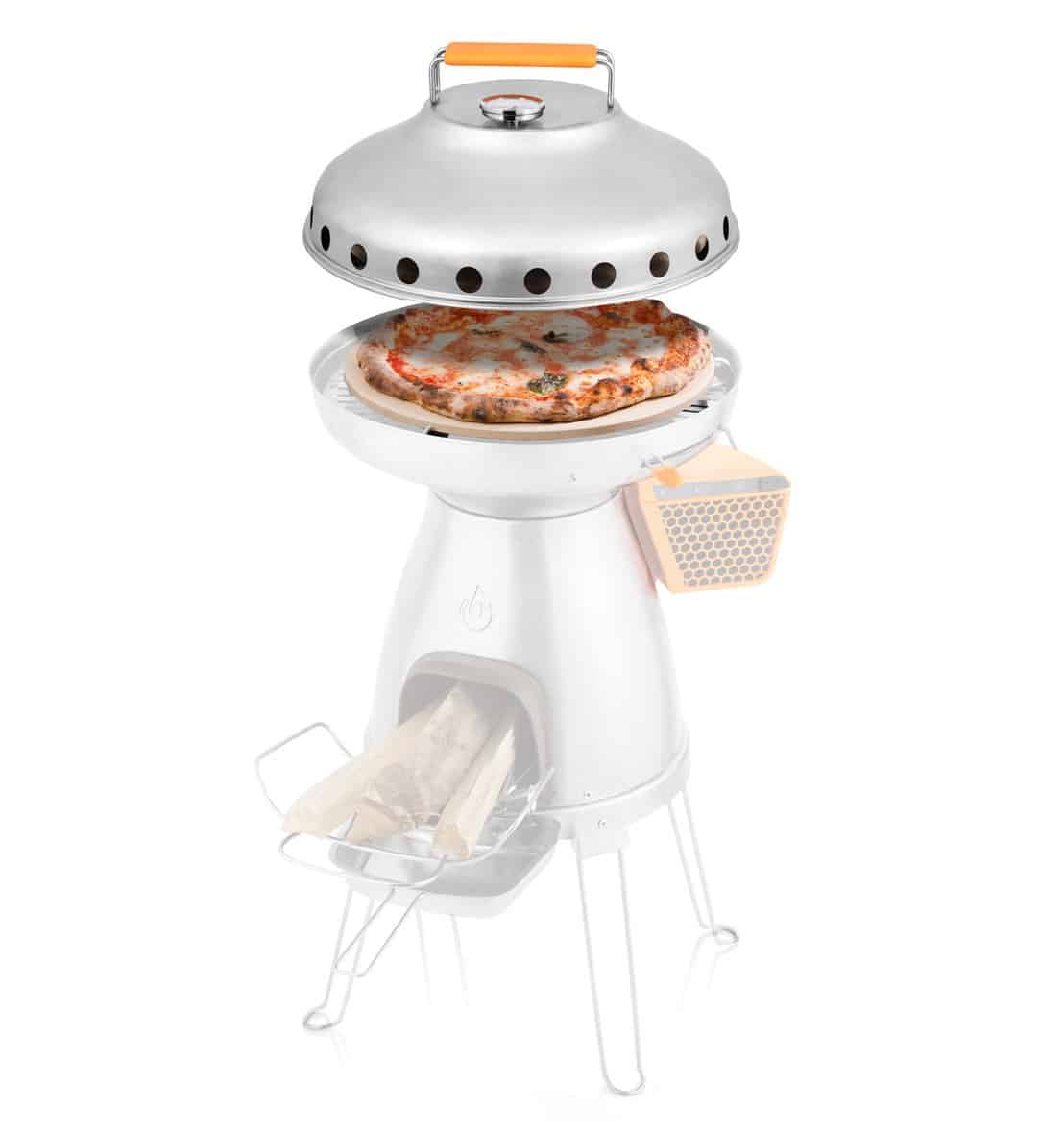 The BioLite Basecamp is an ideal choice for those users who have a tendency to go on camping trips. The unit has a hibachi-style cooking surface, which gains direct heat from the burning wood and helps make the perfectly cooked pizza. The burn chamber of the unit has an attached extended tray that allows users to burn bigger pieces of wood that may be too big to fit inside the chamber.
The interior design of the BioLite Basecamp effectively distributes heat all over the oven, ensuring that the pizza is cooked evenly, from crust to crust and from the topping to the base. The oven operates at 450 degrees Fahrenheit, which results in a slow, yet thorough cooking of the ingredients. An added benefit with the BioLite Basecamp is the versatility it offers in terms of baking. Users can bake cookies, grill cheese sandwiches, toast sliced bread, make scones and so on.
Key Features
Powerpack attached to the side with a USB port
Extended tray in the burn chamber
Reaches 450 degrees Fahrenheit
Hibachi-style cooking surface
Product Review and Description
The powerpack that is attached to the unit's side and helps capture extra energy from the fire. The powerpack charges a fan that blows back to the burn chamber and helps in additional heating and cooking of the pizza. The USB port attached to the powerpack can be used to plug in an LED lamp that is a helpful addition for cooking in the night or can be used to charge a phone. It serves as a great benefit for camping trips as individuals can keep their phone charged – a unique feature that is rarely provided by outdoor pizza ovens.
Portable
Interior construction makes evenly cooked pizza
8. Uuni Pro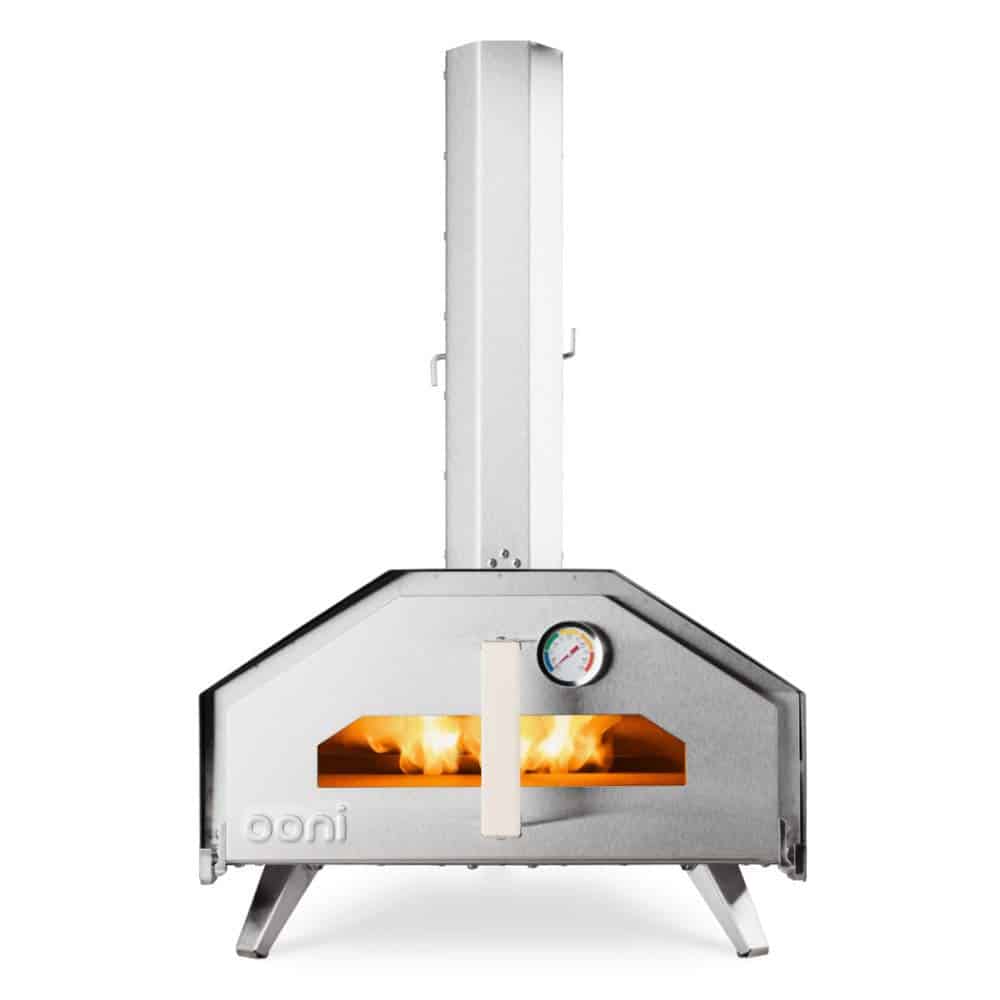 The Uuni Pro highlights the ease of portability with its thin, light and sleek design. The oven has ceramic fiber insulated into the stainless steel, allowing the heat to concentrate into the interiors and enhance the cooking experience by producing as much heat like a heavy wood-fired brick oven. The unit has four attached legs, making it easy to place on any countertop – providing a modern, glossy look at the same time. Here are some of the key features of the Uuni Pro:
Key Features
Portable and easy to assemble
Size of 20×30 inches
Comes with a wood and charcoal burner, along with gas or pellet burner
Unaffected by weather/climate change
Product Review and Description
The gas burner provides a quick and versatile cooking experience, allowing users to not only bake pizzas but smaller pieces of chicken, steak, sandwiches and so on. The unit is easily transportable, with the four legs that fold down and the chimney that can be clicked out of place. The ease of assembly also makes the Uuni Pro an ideal choice for camping trips.
The Uuni Pro can reach upto 800 degrees Fahrenheit in 20 minutes, resulting in slow but thorough cooking of the pizza from the topping to the base. Users will not have to worry about any cold spots in their pizza, or on the pieces of meat in their toppings. The Uuni Pro is an affordable investment compared to other ovens of similar size and features.
There is no worry about storing the Uuni Pro due to its stainless steel finish that adapts with the changing weather. Whether placed inside the house or outside, the unit contributes to the modern setting of your house. The Uuni Pro is fairly easy to manage and can be an ideal pizza oven for beginners who wish to get into the habit of baking pizza. The Uuni Pro provides a unique and versatile cooking experience, ensuring thorough cooking at the same time by reaching high temperatures of 800 degrees Fahrenheit.
Stylish design
Versatile cooking experience
Transportable
9. OoniKoda Pizza Oven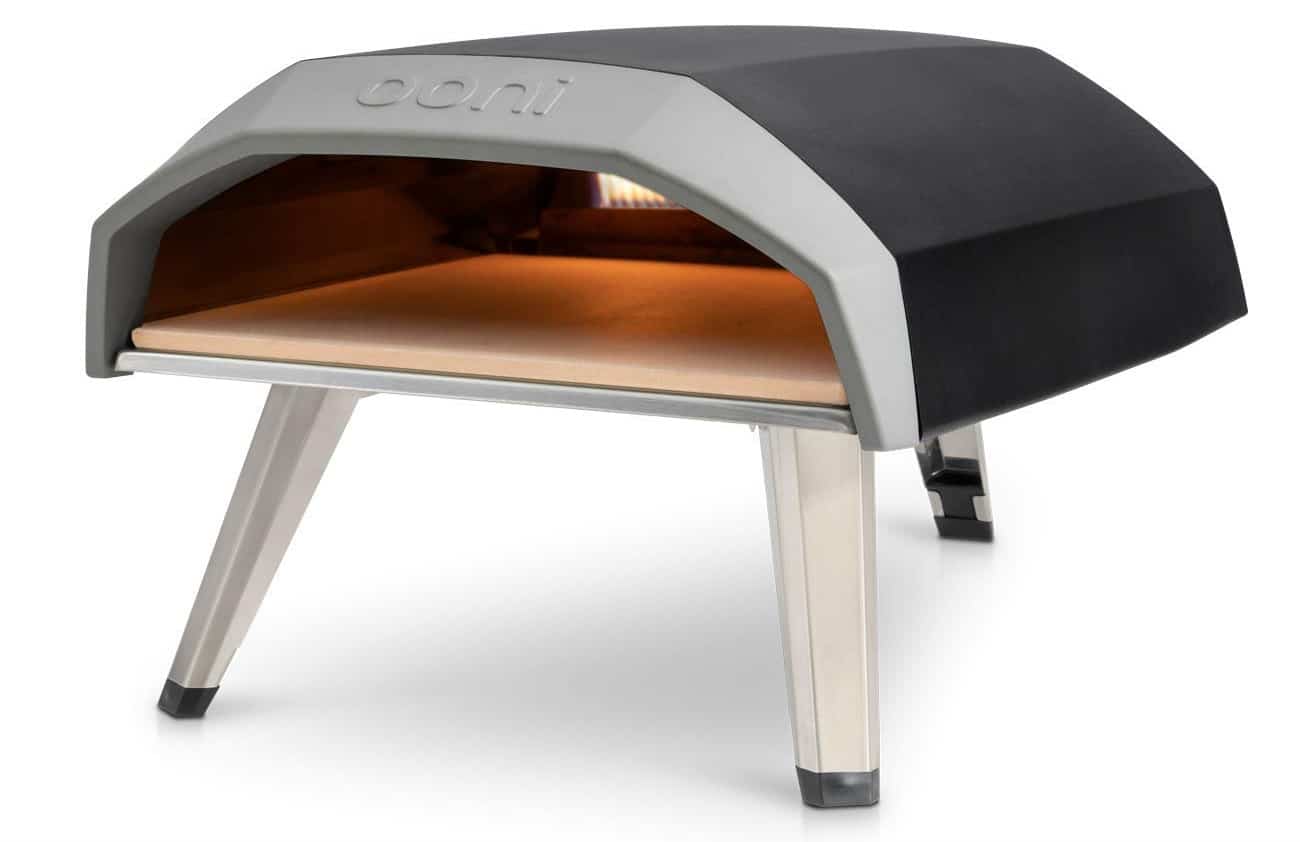 The OoniKoda is undoubtedly one of the easiest outdoor pizza ovens to use, handle and assemble. The unit weighs only 20 pounds, making it incredibly portable and easy for transportation. The unit easily hooks up to a propane tank, making it convenient for users who would worry about calling a professional for the setting up. Assembling the oven is a very easy task and can be done by almost anyone. Here are some key features of the OoniKoda:
Key Features
Weighs only 20.4 pounds
Easy to assemble
25×16 size making it easy to transport and store
Can reach up to 800-900 degrees
Product Review and Description
The interior flame of the oven arcs over the pizza stone, ensuring even cooking of the pizza. The intensity of the flame can even be adjusted according to one's preferences or requirements. The oven is extremely thin and light, which is an added benefit when it comes to going for camping trips or other outdoor adventures or even visiting a family home. The OoniKoda depends on a thin carbon steel shell that is powder coated and its pizza stone. The construction of the oven excels in such a manner that the oven remains cool enough to touch on the outside when the interior temperature runs at a whopping 800 degrees Fahrenheit.
The OoniKoda comes with a guidebook, assisting in the usage and the assembly of the unit and ensuring the users have a thorough understanding of its operation. The guidebook offers different techniques into baking pizza and several recipes that will prove to be useful. A beginner can make perfect 12 inch pizzas from scratch with the help of the guidebook. The guidebook shows methods to cook the pizza in just 60 seconds, which users can take advantage of and cook an abundance of pizzas in just an hour. It makes the OoniKoda an ideal choice for huge parties and family gatherings where food has to be served to a large number of people.
Easy storage due to being light and small
Easy to assemble, and no extra tools required for the same
Bakes a pizza in two minutes
It cannot be stored outside for extended periods of time.
Included peel doesn't have a handle.
10. Zenvida Grill Top Pizza Oven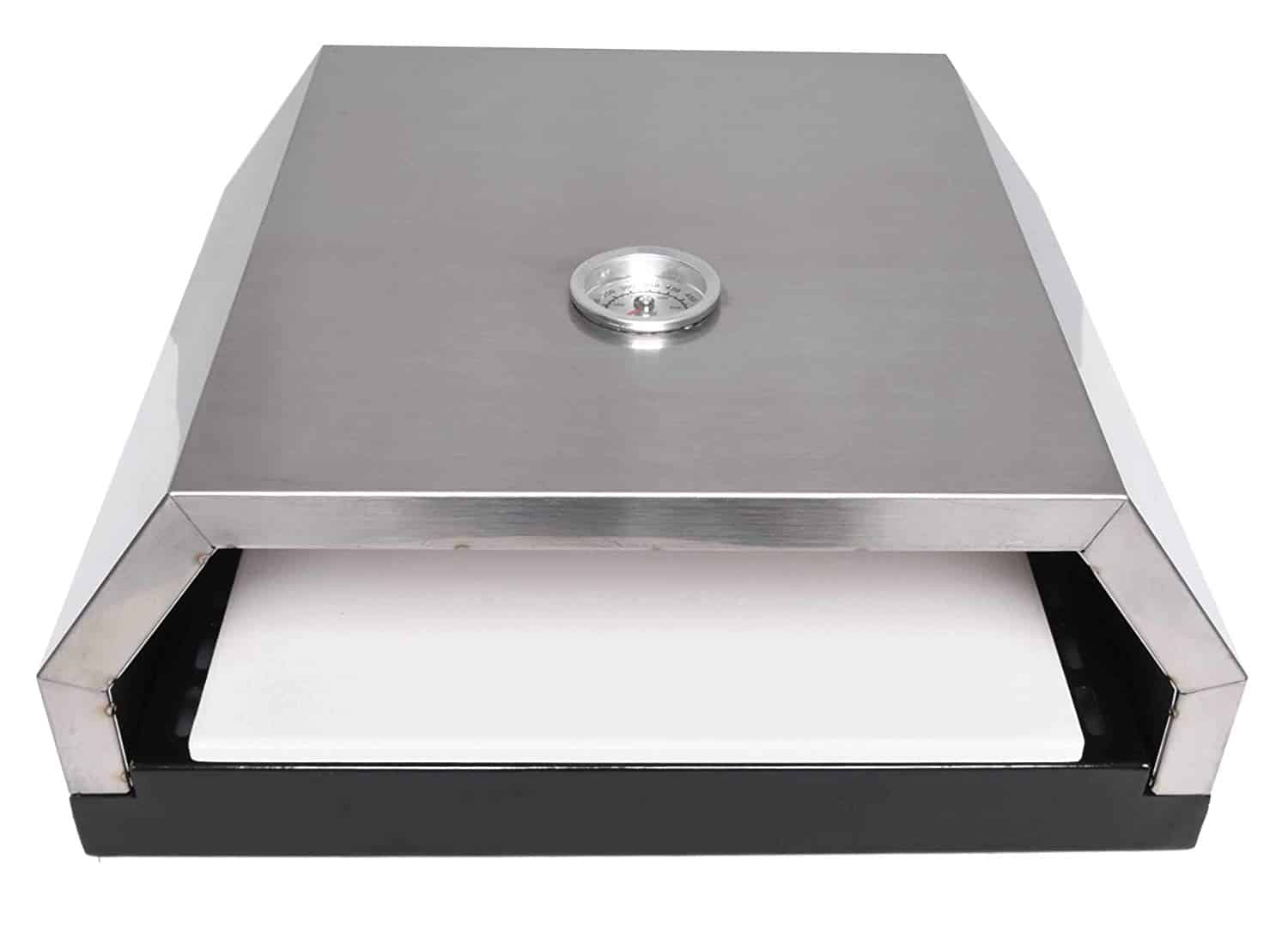 The Zendiva Grill Top Pizza Oven is an ideal choice if there is limited outdoor space and users still want to engage in an immersive cooking experience. The outdoor pizza oven only weighs 11.6 pounds, making it portable and easy to transport. Its ease of usage leaves it approachable for various individuals to use as it requires no professional knowledge on the functioning of an oven. The pizza oven just has to be placed on top of a gas or charcoal grill, wait for it to preheat and then it's ready for cooking.
Key Features
Attached temperature gauge
Stainless steel construction for durable usage
Lightweight at only 11.6 pounds
Heat resistant
Versatile cooking experience
Product Review and Description
The ceramic stone and the stainless steel coated surface allow the oven to replicate the operation of a wood-fired pizza oven. It helps in the even distribution and reflection of heat to ensure that the pizza is cooked evenly from top to the base. The Zendiva Grill Top Pizza Oven provides several versatile cooking opportunities, from being able to cook fish, vegetables, meat and even bake bread and pies. The temperature gauge installed in the oven assists in accurately overseeing the temperature, and adjust according to the delicacy being cooked.
The oven is fairly easy to carry around due to the two handles attached to the side, making it convenient to use both indoors and outdoors. The Zendiva Grill Top Pizza Oven provides an authentic cooking experience with the portable grill top that concentrates high heat directly on the pizza. The ability to convert one's grill into a pizza oven provides users with multiple methods to cook and provide a diverse number of dishes. It is fairly easy to operate as the temperature will remain steady and maintain the same temperature as the grill. The Zendiva Grill Top Pizza Oven is an ideal recommendation for those who look for portability and ease of handling in their outdoor pizza oven.
Easy to handle
Versatile cooking
Durable and long-lasting
Only cook one pizza at a time
Stainless steel walls not double insulated
Conclusion:
The above top ten outdoor pizza ovens are sure to meet your requirements, whether it be just for your patio or for a camping trip. It is important to consider the size and the fuel source of the outdoor pizza oven depending on your location – wood as a fuel source would be challenging if you live in the city, but certainly easier if you live in the country or going camping. Depending on the usage, users can choose a bigger, heavier outdoor oven that can cook several pizzas at once or a lighter portable model that only cooks one pizza at a time. It is important to consider all these factors before choosing the right one, but the above list shows the ten best pizza ovens and will certainly appeal to your needs.